Families of inmates criticize proposed Fla. prison visitation changes
The proposed change would limit face-to-face visitation to a minimum of two per month, for two hours at a time on alternating weekends
---
By Corrections1 Staff
TALLAHASSEE, Fla. — Families of inmates are criticizing a proposed change that would cut the number of face-to-face visitations in Florida's state prisons.
WJXT reports that about 100 people appeared at a public hearing Tuesday to oppose a change that would limit visits to a minimum of two per month, for two hours at a time on alternating weekends, depending on the inmate's ID number. Currently, visitation at Florida's state prisons is allowed every weekend as well as holidays.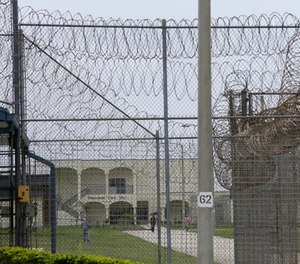 The Florida DOC said it plans to move forward with the plan, which is set to go into effect Saturday. Critics of the plan said it ignores research that shows frequent visits with friends and family lowers recidivism and helps with inmates' reentry into society.
Richard Comerford, the Assistant Deputy Secretary of Institutions, said the changes are in part due to the increase in visitors smuggling contraband into its prisons. Comerford also cited staff shortages and that the change will help staff manage the number of visitors coming on a given weekend and prevent overflow crowds.
"The number of recovered weapons, cell phones, and illicit drugs continues to rise across the state, within our facilities. Many of these incidents of contraband have been linked to visitation," Comerford said.
The DOC is also implementing video call kiosks as an addition to every-other-weekend visitation, the Sarasota Herald-Tribune reports. Inmates will pay $2.95 for 15 minutes to speak with family and friends when personal visitation isn't allowed.
But many fear that the introduction of video visitation is the beginning of the end for face-to-face visitation.
"We need that hug. We need that kiss," Shirley Reed said. "We need for our family members that are locked up to see us, to hold on to us, kiss us."
Corrections spokeswoman Michelle Glady said video visitations are not meant to permanently replace personal visits.
"We are very aware of how important visitation is," Glady said. "We take it very seriously."
Family members said visitors are not the source for contraband, and allege that COs who feel they're overworked and underpaid are the ones bringing it in. 
The plan will be reevaluated after 90 days.