Kan. officials to consider mass inmate release
Commutations could solve prison overcrowding issues but carry the risk of 'hell to pay' if someone released early commits a crime
---
Tim Carpenter
The Topeka Capital-Journal
TOPEKA, Kan. — Senate Majority Leader Jim Denning possesses familial insight into the challenges of enforcing laws on crime and punishment.
The Overland Park Republican has served in the role of statute creator since 2010 as a member of the Kansas Legislature. His brother, Frank, was sheriff of Johnson County from 2004 until retiring a couple years ago.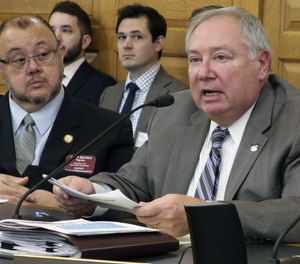 Denning, the politician, said action Nov. 4 by Oklahoma to release more than 450 non-violent inmates in the largest mass commutation in U.S. history carried the risk of "hell to pay" if someone freed early were to commit a heinous crime. There is fascination, he said, with prospects of reducing prison crowding and granting low-level offenders a quicker chance to rebuild their lives.
"My thoughts are mixed," he said. "There are pros and cons of that."
The 2020 Legislature in Kansas could delve into the subject of early release because the state has been unable to solve the bulging prison population. The state's politicians have sidestepped major reform for fear of diminishing public safety, regarded as a core function of government. But Kansas lawmakers can't escape the prison crowding, employee shortages and barrage of demands for diversion of corrections dollars to other priorities.
The decision in 2018 by Gov. Sam Brownback to spend $360 million modernizing Lansing Correctional Facility won't elevate state capacity by more than 30 inmates.
The 2019 Legislature authorized a commission to study the justice system, including sentence guidelines, diversion options, community supervision of felons, specialty courts and inmate rehabilitation programs tied to addiction and mental health issues. The commission is to release an interim report Dec. 1 and final recommendations in December 2020.
In October, the administration of Gov. Laura Kelly approved transfer of 120 inmates to a private prison in Arizona. Kansas' facilities remain near capacity with about 10,000 men and women behind bars.
Jeff Zmuda, secretary of the Kansas Department of Corrections, said the approach taken by Oklahoma to convert low-level felonies to misdemeanors and to depress inmate populations accordingly through commutation deserved attention.
"I believe that's something the Kansas Legislature and governor could consider," he said. "It obviously has to match up with the values of our communities and be done smartly. I think it's something to consider."
Options for reducing admissions to state prison include broadening diversion programs, which include treatment or community service, as an alternative to incarceration. The reform of state laws to lower penalties for drug possession would significantly influence the jail and prison census. Cutting time off sentences can remove people from prisons, given Oklahoma's mass commutation reduced by 1.3 years the time prisoners were required to serve.
In addition, Kansas could allow for more rapid accumulation of good-time credits for inmates with a record of good behavior.
Sen. Jeff Longbine, an Emporia Republican and the Senate vice president, said there wasn't political appetite nor the tax dollars to add enough prison beds to match growing demand.
"It's well-documented we have an overcrowding problem in Kansas," Longbine said. "I'd prefer to release non-violent prisoners that have come close to serving their required time than I would shipping prisoners to out-of-state locations."
McClatchy-Tribune News Service