PRESS RELEASE
Thorogood T.A.S.A.R. Protects Ankles from Common Lower Leg Injuries
---
For Immediate Release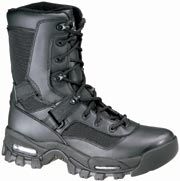 Merrill, Wisc. - A technological breakthrough in tactical footwear design gives T.A.S.A.R.™ exceptional ankle support reducing sprains, twists and rollovers.
The newest tactical boot in the Thorogood Shoes series employs an integrated security strap. The ankle strapping system, in conjunction with the molded heel lock, is anatomically engineered to provide maximum control and stabilization of the ankle. The straps are directly integrated into the lacing system, which allows wearers to adjust the support as needed. Heel airbags with four PVC springs absorb shock and impact as forefoot airbags provide the desired energy return.
Standing for Tactical Ankle Support Against Rollover, T.A.S.A.R. is the most advanced boot on the market for officers in action. T.A.S.A.R. is introduced in the new Thorogood Shoes product catalog. For the FREE 2004 edition, call 1-800-826-0002.
###
Weinbrenner Shoe Company, a leader in fire, rescue, uniform and safety footwear, produces Thorogood Shoes. Weinbrenner operates two factories in northern Wisconsin and is ISO 9001 certified. The employee-owned company produces over 500 different styles for private label and their own branded lines.