Beyond the body-worn camera: Incorporating digital evidence management systems into the corrections environment
Integrating BWC and facility video in a single system enhances safety, reduces liability, aids investigations, and makes documentation more accurate and efficient
---
Sponsored by Eos by Utility
By Laura Neitzel, Corrections1 BrandFocus Staff
Law enforcement agencies around the nation have implemented body-worn camera programs and learned the value of BWCs for enhanced situational awareness and officer safety, increased transparency, reduced liability, and evidence collection and management.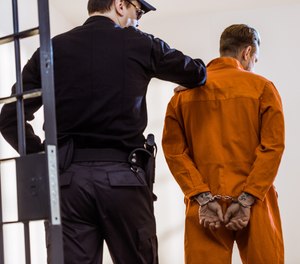 The benefits of BWCs in corrections are the same as in law enforcement ─ and then some.
Theft, assaults, illicit drugs, sexual assault, murder, suicide, use of force, medical emergencies and social unrest ─ the same crimes and incidents that happen on the streets can happen in the confines of a correctional facility. Like on the outside, these crimes need to be investigated and resolved and incidents quelled.
Correctional officers have the added challenge of around-the-clock responsibility for the health and welfare of the residents. Facility staff must ensure inmates are clothed, fed and housed, get medical attention, and have access to resources, exercise and visitation, while assuring inmates' civil rights. This diligence requires extensive documentation. The delivery or nondelivery of each of these services presents a potential risk of conflict, complaints and false allegations that can lead to lawsuits and other problems for the facility and staff.
Especially in high-risk situations, having audio and video evidence from a correctional officer's BWC can be instrumental in resolving these conflicts and fending off legal action by showing the officer took appropriate actions. Here are a few instances in which having video documentation from BWCs is especially important in the correctional environment:
During intake to show the inmate's condition, possessions, demeanor and interactions with intake officers and others.
When moving individuals around the facility or transporting them outside the facility to medical appointments or court hearings.
During transport of high-risk inmates, juveniles or inmates of the opposite sex.
When conducting rounds to check on inmates, especially individuals in isolation, at risk of suicide or in need of medical attention.
During periods of unrest.
During movements of groups of inmates.
BWCs as investigative tools
Body-worn cameras are also a valuable evidence-collection tool to document the first moments a correctional officer happens upon a scene like an assault or in-custody death. They can be valuable in investigating a suicide or demonstrating an officer took appropriate measures to resuscitate a nonresponsive person.
An officer's BWC can also be used to document a crime scene, conduct interviews with sexual assault victims and suspects, and identify witnesses and use that evidence to encourage them to cooperate with an investigation.
But for all the benefits of BWCs, the massive volume of digital evidence can be unmanageable, expensive and difficult to use.
Finding a needle in a haystack
In a recent webinar hosted by Utility, John Kennedy of the FBI National Academy Associates stated that "80% of evidence involved in an investigation is now digital."
Without a streamlined mechanism to process, search, analyze, review, redact and share digital evidence in a secure, practical and affordable manner, the treasure trove of evidence collected by BWCs, as well as in-vehicle videos, surveillance videos, etc., is locked away in increasingly expensive storage.
That means facilities are confronted with the need to select and implement an effective digital evidence management system (DEMS) to make the vast volumes of digital evidence usable. Cloud-based storage, searchability powered by artificial intelligence, rules-based retention and offloading of data, and the ability to associate specific evidence with a case make it feasible and efficient to surface crucial information from the fathomless ocean of data.
To stay future-proof and get the most value from their BWC program and other digital surveillance tools, correctional facilities should consider implementing a cloud-based digital evidence management system like Polaris by Utility.
Integrating advanced BWC technology with a digital evidence management system
Like other BWC systems, Utility's advanced body-worn camera system, EOS, automatically offloads audio, video and photos to scalable, CJIS-compliant cloud storage. But when paired with Polaris, Utility's DEM system, it can facilitate digital evidence collection, case management and data sharing and provide real-time situational awareness that improves facility, officer and inmate safety.
The role of digital evidence management in corrections
Designed to enable agencies to gather disparate digital evidence into one unified view, Polaris is a virtual command center that provides a seamless transfer of information between EOS and other devices like smartphones, tablets and computers. Audio, video and photos from an officer's EOS device can also be integrated with other types of data, including documents, photos, metadata, phone data and security camera footage, and displayed in one unified view.
The integration of the EOS device with the Polaris DEMS offers huge benefits not only for evidence collection and management, but also for real-time situational awareness.
During or immediately after a critical incident like inmate-on-inmate violence, corrections officers need to quickly identify participants and witnesses. Being able to instantaneously access and review officers' video becomes a safety concern for staff and other inmates.
Wardens, unit managers, jail commanders and others with the requisite level of permission can review an officer's EOS video and facility video simultaneously in the same interface. The interface also includes live map tracking of GPS data from the EOS device for tracking officer locations within the facility. Supervisors can even start recording remotely and initiate live streams from an ongoing event in the field.
This enables authorized personnel like wardens, unit managers and even medical personnel to review a critical incident and make intelligence-led decisions based on real-time information.
Other assistive features of EOS, like automatic activation, are highly configurable in Polaris to conform to policy and begin automatic recording based on certain triggers or within certain geofenced locations. If a wearer goes prone for a certain amount of time, starts running or unholsters a weapon, for instance, EOS will automatically start recording, and Polaris will send an alert to other nearby officers.
Quick and secure redaction and release
In the wake of a critical incident, law enforcement and correctional facilities are expected to quickly release critical footage. Failing to do so in a timely manner is often seen as an attempt to cover up wrongdoing.
Polaris makes releasing critical footage quick and easy by automatically redacting video and audio evidence before it's shared or exported. 
The wave of the future
Bodycams have evolved far beyond their use as an audio and video recording and playback device. Today, smart BWC technology like EOS, combined with a digital evidence management system like Polaris, make it possible for correctional facilities to track and document officer movements and actions, stay apprised of critical developments in real time, release information to prosecutors and the public, ensure the veracity of evidence through an airtight chain of custody, and do it all efficiently and effectively.
As correctional facilities increasingly implement BWC programs, leaders must consider the bodycam as an essential component of a holistic digital evidence management system that not only makes the collection and management of evidence more efficient and effective, but also helps fulfill a top responsibility ─ ensuring a safe environment for officers and inmates alike.
This article originally appeared in Correction1's 2023 Guide to Body-Worn Cameras.

Request information from Utility
Thank You!