How an Ala. county jail is laying the groundwork for successful re-entry
New correctional technology gives facilities and residents the tools to prepare for successful re-entry while promoting facility and community safety
---
Content provided by Tyler Technologies
By Allison Catalani
Police officers vow to serve and protect the people of their communities, patrolling their communities for suspicious activity and enforcing the law. While this is one side of the law, the other side – jails and corrections – often gets forgotten as part of that protection. Approximately nine million individuals cycle through local jails every year and additionally, more than 600,000 individuals are released from federal and state prisons annually. Within three years of release, however, more than two-thirds of these individuals are arrested again, with half incarcerated [2]. This persistent cycle of recidivism is why innovative facilities are looking to technology to help change the narrative.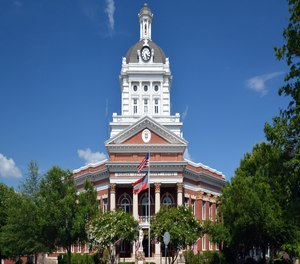 "While they're in our facility, we want to make them better humans, to give them access to the outside world," explains Lieutenant Richard Moats of Morgan County Jail in Alabama. "So when they get out, they don't come back. That's what we want, we don't want a lot of people in our jail."
Increased Communication and Rehabilitation
Access to the outside world is expanding with the new era of technology entering facilities, bringing the outside world inside, ultimately preparing residents for success upon re-entry. Since 2017, Morgan County Jail has leveraged cloud-based correctional technology that provides digital access to tools and resources for the nearly 650 residents in the facility – helping them to stay connected, while also increasing corrections safety and simplifying staff's daily tasks.
The cloud-based applications provide secure, dependable, and accessible resources for residents and their families to keep them involved with society, providing trust fund management, commissary management, health, educational, legal support, user-friendly communication platforms and more.
One of the features making a large impact in Morgan County is video visitation, allowing remote face-to-face interactions with family and friends. Moats credits virtual interaction in helping boost resident morale both during and after the pandemic, and for providing peace of mind to loved ones on the outside. Multiple studies have shown the positive effects visitation can have on recidivism. In fact, a study in Florida among 7,000 residents released from state prisons in 2008 showed that for residents who received visitors, their odds of recidivism were lowered by 30.7 percent (vs. those not visited), with a 3.8% decline with each additional visit [1]. Video visitation can not only make interactions easier, but it can also ease the pressure off facility staff from managing additional safety concerns.
Recently, Morgan County also introduced handheld tablets to multiple housing units within the facility. Tablets offer a sense of freedom from the static kiosks affixed to a cement wall, providing mobile convenience to conduct day-to-day tasks like filling out grievances or commissary ordering. Residents gain a sense of normalcy using modern tools from the outside world, while administrators and officers are more available to the population with minimal impact or overhead.
With new technology that better serves residents and facilities, the possibilities for setting residents up for success and reducing recidivism rates are more promising than ever. The COVID-19 pandemic was a wake-up call for jails nationwide and Moats encourages others to follow suit to meet modern expectations: "Now jails have to move into the technology side of the world not only for security and safety, but also to provide access to [residents]."
More Efficient Operations
While Morgan County's integration did not happen overnight, the journey with each new software feature resulted in several benefits for all involved, increasing efficiency, and enhancing business operations. The facility is now paperless and officers have greater monitoring abilities, even preventing two escape attempts thanks to the keyword recognition built into the new software.
Continued success on the support side further helped Morgan County navigate new processes. Staff from the correctional software partner were on-site during the initial setup and active in answering calls with questions at all hours of the day, providing "more of a family than a business relationship," according to Moats.  
Safer Communities
With a population of less than half a million, the family feel of the community is prominent and valued across Morgan County. It may seem small in population, but the collective goals and values of the people are mighty. Law enforcement equally vows to protect and serve on the inside of jails as much as those on the outside and the officers of Morgan County strive to uphold these principles in every way possible. By applying the new tools in the jail, security is improved, operations are streamlined and residents receive increased communication access. Continued integration and connectivity can propel other facilities in the state and nationwide to grow these systems for generations to come. The opportunity new technology offers to residents and facility systems is reforming the re-entry process and empowering individuals for success upon release while keeping the entire community safe.
References
1. Bales, W. D. & D. P. Mears (2008). Inmate social ties and the transition to society: Does visitation reduce recidivism?  Journal of Research in Crime and Delinquency 45(3): 287-321.
2. Incarceration & reentry. (n.d.) Office of the Assistant Secretary for Planning and Evaluation – U.S. Department of Health and Human Services. https://aspe.hhs.gov/topics/human-services/incarceration-reentry-0
---
About the author
Allison Catalani is a content specialist at Tyler Technologies, Inc. In her role, she covers stories of courts and justice agencies, jails, and probation offices leveraging innovative solutions to overcome challenges across a range of disciplines, highlighting the impact their work is making to improve justice efficiencies and outcomes while bettering the constituent experience.

Request information from Tyler Technologies
Thank You!