New Panasonic Toughbook U1 is a mighty miniature
Panasonic has released a handheld Toughbook with a full Windows operating system
---
By Drew Johnson
Corrections1 Editor
With Panasonic's new line of handheld U1 Toughbooks, public safety workers can get all the computing power they need in the palm of their hand.
The Panasonic Toughbook brand has become synonymous with rugged, hardworking computers, and has become a fixture within all segments of public safety. The new U1 handheld raises the line of Toughbook computers to a new level of portability and durability, with some specific advantages for first responders on the go.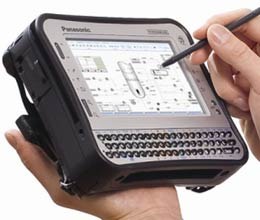 Dave Poulin, senior business development manager for Panasonic, says the new U1 fills an important niche in the portable computing market that traditional laptops and desktops can't.
"As technology has become more pervasive, there's this weird line where there are people who aren't in front of a computer, either on foot or on a motorcycle, for instance, who don't have access to traditional computers," he said. "We've passed the curve where mobile computers are a luxury. Now they are a necessity."
The Toughbook U1 provides that access. Unlike many smaller computers that can only run trimmed-down mobile operating systems, the U1 runs a full Windows 7 operating system. This is crucial for public safety workers who often need to access enterprise software — to pull up medical records in an ambulance, for instance, or criminal records on a cell block — but can't lug around a full notebook.
"If you need all the software that someone on a desktop has, you got it," Poulin said.
And since the U1 runs a full Windows OS — which most people are familiar with on at least the most basic level — there is a relatively short learning curve.
The demographic that seems to have taken to the U1 fastest is the generation that's grown up in front of a computer, Poulin said, adding "the younger users can pick it up and go town with zero instruction."
The U1 comes in two lines: the Ultra and the Essential. The Ultra, which Panasonic says will cost $2,799, has a 64GB SSD, 2GB of RAM, and 6000nit direct sunlight viewable display. The Essential offers 32 GB of storage, 1GB of RAM, and a 300 nit transmissive display. The Essential will cost around $1,899.
Both come standard with wireless capability, Bluetooth and Windows 7, and can be customized with a 2 megapixel camera, fingerprint reader, barcode reader, integrated numeric keyboard, and GPS.
But the real question is: how far can you drop it?
"Six feet," Poulin said. "But that's six feet from any angle. Prior to the U1, we've been saying three feet, but I've seen people bowl with this thing. I've seen people do things that make our warranty people cringe and have it survive."
The Toughbook U1, with its magnesium alloy chassis and sealed all-weather design, proves that computer manufacturers don't have to cut corners to put durable, powerful computing power in users' hands.
"It's really open to the imagination," Poulin said. "It can really go where other devices can't."
Panasonic manufactures and markets Toughbook notebook computers for a range of markets. For more details, find them on the Web at www.Panasonic.com.

Request product info from top Corrections Communications companies
Thank You!