Shanks uncommon at Okla. county jail
Cherokee County Detention Center officials haven't found a shank, which is a weapon made from everyday items, for a couple of years
---
By Keri Gordon
Tahlequah Daily Press
TAHLEQUAH, Okla. — While uncommon in area correctional facilities, shanks can be made from everyday items and hold consequences for those who craft them behind bars.
T.J. Girdner, jail administrator at the Cherokee County Detention Center, said jail-made shanks are uncommon at his institution but that doesn't mean it hasn't happened.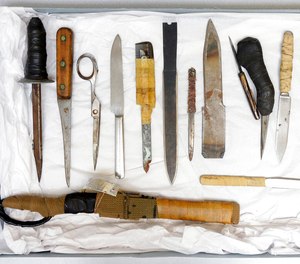 "We've never had one actually used in a fight because they're luckily confiscated beforehand," Girdner said. "We haven't found one in a long time really, it's probably been a year or two years."
A shank is a handmade weapon made out of items received in jails or prisons. The item is sharpened by scraping metal on concrete floors and the handle is typically made from paper or cloth.
Full-size pencils, toothbrushes, pens, candy canes, and even chicken bones aren't handed out at CCDC. The item most commonly to be turned into a shank is a toothbrush.
"We normally find them through cell searches, which are at random," Girdner said.
[Read Coping with the never-ending evolution of inmate weapons]
Inmates who are caught with the handmade weapon will get an additional charge of bringing contraband into a penal institute, which is a felony.
"Anything that's not in our policy and procedures that's given to them at booking would be considered contraband," Girdner said.
Assistant Jail Administrator Johnny Dallis added that any item provided by the jail that is altered from its original intentions is also considered contraband.
Girdner and Dallis said they are rarely surprised with what items can be used as a make-shift weapon.
"The only one that ever surprised me was the cardboard," Dallis carefully said, as not to give anyone ideas.
Shanks are commonly used during inmate-to-inmate fights rather than an inmate attacking a detention officer. Girdner said no detention officers nor administrators at CCDC have been stabbed or cut with one.
Inmates who have a history of making or possessing a shank are monitored differently than ones who don't.
"One inmate, he had a shank on him all the time. He never used them but he always had one and if you wanted to go back there and look, you'd find one. We house them a little bit different," Girdner said.
___
(c)2023 the Tahlequah Daily Press (Tahlequah, Okla.)
Visit the Tahlequah Daily Press (Tahlequah, Okla.) at www.tahlequahdailypress.com
Distributed by Tribune Content Agency, LLC.
McClatchy-Tribune News Service
Request product info from top Contraband Detection companies
Thank You!