Providing inmates with skills for careers in HVACR
How commercial HVACR career and technical training partnerships can reduce recidivism and improve correctional facilities
---
By Jerry Hirsch
Reducing recidivism and providing a safe environment for inmates, staff, visitors and, ultimately, the greater community are two of the main priorities for corrections departments throughout the U.S. However, with shrinking budgets, increasing needs and a growing incarceration rate, these goals may seem out of reach. Correctional leaders must look for creative ways to improve facilities while preparing inmates for their eventual release.
Efficiency upgrades, re-entry initiatives and strong partnerships play key roles as correctional facilities adapt to address these concerns. The Green HVACR Career Development Partnership Program developed by Johnson Controls, with over 70 years of HVACR training experience at hundreds of customer sites and training centers, is one example of a partnership with the Virginia Department of Corrections (VA-DOC), designed to reduce recidivism while creating a positive environmental impact for inmates and corrections officers.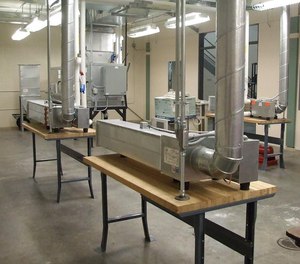 This partnership program provides inmates with training developed from thousands of HVACR technician assessments to expand skills that are challenging for many existing HVACR technicians in the field today. These HVACR programs are taught by experienced instructors in state-of-the-art learning labs with both commercial and residential heating, ventilation, air conditioning and refrigeration (HVACR) equipment, along with state-of-the-art Building Automation controls. The goal is to equip inmates with highly marketable HVACR skills to help them become more productive upon their release and improve safety in the community. Their productivity becomes important when you consider national statistics that show 68% of released prisoners in the U.S. were arrested again within three years and 79% within six years.
Since VA-DOC's HVACR Program implementation in 2012, 5.6% of its HVACR program graduates were returned to prison. These results have helped them reduce their overall 2019 recidivism rates to 23% and maintain the lowest state DOC recidivism rate in the country during the last four years.
Career and technical training with industry partnerships for green jobs
Providing industry partnerships to help create career and technical training programs that prepare inmates for jobs in the HVACR industry can help reduce these staggering recidivism numbers and support the current labor shortage the HVACR industry is currently facing. It's reported that more than two million technical jobs could go unfilled in the coming years due to a lack of skilled workers. Meanwhile, the industry is busier than ever as concerns around COVID-19 are emphasizing the importance of HVACR systems to ensure better indoor air quality and minimize airborne disease transmission.
The Green HVACR Career Development Program evaluates and supports local HVACR job market employers and apprenticeship programs where correctional facilities release inmates. These local connections allow customization of our programs that help inmates obtain jobs as building maintenance specialists, HVACR mechanics, facility controls technicians, and facility maintenance electricians upon release.
Participating facilities, including Indian Creek Correctional Center (ICCC), a VA-DOC state prison for men, have a dedicated HVACR lab that is furnished with state-of-the-art HVACR equipment and controls, tables, chairs, and smartboards, along with experienced instructors using proven HVACR curriculum to help create successful outcomes.
Both short- and long-term offenders can participate in the three-level Green HVAC Career Development Program. The program gives students the opportunity to learn HVAC basics, including building maintenance, before launching into more technical aspects of the trade to become an HVACR Technician and a Maintenance Electrician at the same time. The third level focuses on using Building Automation Systems to troubleshoot and correct facility operation and maintenance challenges. Short-term offenders can use these newly developed skills to help land a job upon release, while long-term offenders can help maintain HVAC systems within the correctional facilities. They also have the ability to take over maintenance positions, ultimately saving the corrections department money and filling positions that are otherwise under-staffed.
A personal snapshot of program success
Edward Higgins, a student who completed the program at ICCC, credits it for landing a great HVAC job and inspiring him to continue his education and pursue a bachelor's degree in mechanical engineering upon release, which he recently received from Old Dominion University. With his degree and newfound skills, he was promoted to lead the HVAC technician team for his employer.
A key element of his learning and participation in the Green HVAC Career Development Program involved a grasp of the basics along with using the various custom HVACR reference guides provided.
"The knowledge base that I built allowed for me to make quicker, direct correlations between theory and practice and also gave me the advantage to advance into more technical roles," Higgins said. With this training under his hat, Higgins has already advanced his education and his profession.
Achieving the ultimate goals
In addition to helping students like Higgins obtain jobs in the HVAC field, the Green HVAC Vocational Program is helping VA-DOC optimize building performance to save community resources. The HVACR training facility and lab equipment are funded through energy savings generated by the energy-efficiency upgrades made under the Johnson Controls performance contract with the VA-DOC. Under the contract, Johnson Controls is helping VA-DOC bolster energy, water and operational efficiency throughout its facilities.
Additionally, the implementation of partnerships and programs like the Green HVACR Career Development Program can help correctional departments reach their ultimate goals of reducing recidivism and improving officer, inmate and community safety. Research shows that inmates who participate in vocational programs have 43% lower odds of returning to prison than those who do not. More correctional facilities should consider implementing career development partnership programs to help offenders successfully re-enter society.
NEXT: How VADOC achieved the lowest recidivism rate in the nation
---
About the author
Jerry Hirsch is the customer training consulting manager at Johnson Controls.

Request product info from top Correctional Facility Maintenance companies
Thank You!