Keep cool with CORTAC's cooling and trauma attenuating system
The CTAV enhances the overall comfort of wearing armor while providing up to ten times the blunt trauma coverage as industry-standard trauma pads
---
By Erin Hicks
Corrections1 Editor
Overheating is not a rare event for corrections officers, especially during the summer. Anyone working in Lookout or Rifle Towers, or as transport officers or SORT officers can probably commiserate on how hot the job can get.
That's where the CTAV by CORTAC, based in Hendersonville, Tenn., comes in. Compatible with ballistic and stab resistant body armor, the CTAV is a thin, flexible and lightweight inflatable panel worn between the torso and body armor. The CTAV attaches to existing armor carriers and enhances the overall comfort of wearing armor while providing up to ten times the blunt trauma coverage as industry-standard trauma pads.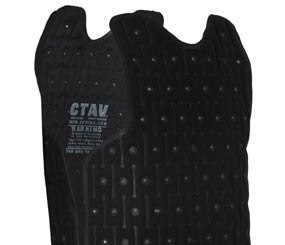 Its low-profile design does not impede range of motion while CORTAC's proprietary materials and coatings accelerate moisture evaporation, which helps to keep you more comfortable.  During independent testing, the CTAV reduced behind armor body temperatures up to 9.1 degrees while attenuating behind armor blunt trauma from ballistic impacts by up to 62 percent.
"Our priority is to improve the daily comfort of wearing armor while also providing officers with an added layer of protection that will help them finish the fight," said Jeremy Harrell, President at CORTAC.
Harrell doesn't call the CTAV a vest — he makes reference to it as a device. "The key to how it works is the dual, continuous air chamber system — whether it's dissipating the trauma or regulating your body temperature," said Harrell.
Harrell said dozens of agencies including the Los Angeles Sheriff's Department and the U.S Border Patrol Special Operations Group have given positive reviews of the CTAV after conducting wear tests, and said that officers have reported noticeable air circulation behind their body armor, less perspiration when wearing the CTAV, and say their undershirts are drier with the device than without it.
Harrell was a police officer for almost eight years, so he knows what it's like to be hot and uncomfortable on the job.  
"The difference is dramatic. I wore body armor for almost eight years, and when you put it on in full uniform and start doing activities, there's convection that takes place behind the armor even when you're doing nothing more than standing around," he said. He added he knows two officers currently wearing the CTAV who have been able to stop taking medications for heat rash.
The CTAV has been worn by officers inside buildings and enclosed spaces, and they are reporting the same type of benefits as those who work outside. "Just because you're inside a building doesn't mean the CTAV isn't working; whether you notice it or not, it is continuously regulating the body temperature between your torso and armor," Harrell said.
He said his company launched the CTAV during Shot Show in January, and in a short period of time has generated agency and individual officer sales.  Next up they are looking to penetrate the corrections market, and are looking to generate product interest in facilities around the nation.
"We are committed to working with corrections officers and agencies to raise awareness about this product."
__________________________________________________________
CORTAC is based in Hendersonville, Tenn., and manufactures the CTAV in the USA. For more information or to order, visit their website or check out this video.