PRESS RELEASE
Bianchi Introduces the SL 3.2.1 SpeedLok Duty Holster With Auto Retention - A New Innovation In Weapon Security And Comfort
---
For Immediate Release
TEMECULA CA; JANUARY 2003 - Want a holster with additional retention features but you don't want to deal with the complexity of many of the older retention holster designs. Introducing the Bianchi SL 3.2.1TM SpeedLokTM Retention Holster, the first retention holster with SpeedLok, which gives you both Auto RetentionTM and a straight up single plane draw. SL 3.2.1TM . . . a holster that's easy for the officer to use yet provides security that exceeds the traditional definition of security as we know it.
"In a perfect world your weapon will be secure when you find yourself in a wrestling match or an all out fight." says Mike Shire, Vice President of Sales & Marketing for Bianchi International. He continues "In the real world however, you're not always given the time necessary to secure all the snaps, bails and other retention devices your holster needs to provide maximum security. With Auto RetentionTM, your holster provides a significant level of security the moment its holstered, providing real world security in a less than perfect world situation."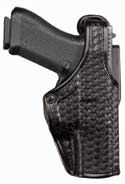 With the new SL 3.2.1TM holster design, drawing is quick, efficient and on a single-plane of movement. When the weapon is holstered, the Auto RetentionTM system becomes activated. "Auto RetentionTM" is SpeedLok's ability to automatically secure the weapon without intentionally engaging any secondary snaps, bails or other devices. The duty weapon can be twisted and pulled in any direction but the weapon can not be removed from the holster until the SpeedLokTM mechanism is deactivated. To deactivate, simply release the SpeedLokTM lever with the thumb and draw. It's that easy.
An additional feature of the SL 3.2.1TM is the new ErgoTekTM ergonomic cushioning system that is built into the injection-molded belt loop of the holster. This patent pending, integral, closed-cell foam pad greatly enhances carrying comfort for all-day wear.
The SL 3.2.1TM is offered in AccuMold® ballistic weave (Model 7130), and in Bianchi's patent pending AccuMold® EliteTM, plain, basketweave or hi-gloss (Model 7930). The SL 3.2.1TM is available to fit most popular law enforcement weapons on the market. Suggested retail is as follows:
Model 7130 SL 3.2.1TM SpeedLokTM - AccuMold® - $85.00
Model 7930 SL 3.2.1TM SpeedLokTM - AccuMold® EliteTM - $95.00
Established in 1958, Bianchi International is recognized worldwide as one of the largest, leading designers and manufacturers of leather and nylon holsters and accessories for law enforcement, sports enthusiasts and the military. For additional information, contact Bianchi International, P.O. Box 9015, Temecula, CA 92589-9015, call (800) 477-8545 or (909) 676-5621, or fax (800) 283-2936 or (909) 676-6777; or visit Bianchi International at
www-bianchi-intl.com
.