PRESS RELEASE
Bootlock Ankle Holsters by Gould and Goodrich Help Lighten The Load
---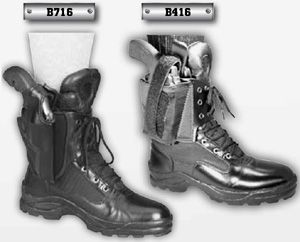 Lillington, N.C. — The Gould & Goodrich Bootlock ankle holsters carry the weight of your weapon, providing all day comfort and unsurpassed stability, even in the toughest situations. These unique designs are the first ankle holsters to be worn over a boot.  Once your boot is laced through the holsters eyelet system, your weapon is held securely in place.  No more riding up and down!
The B716 Bootlock Ankle Holster is made of weather resistant K-Force material over a thermo formed Kydex body that retains its shape in harsh conditions.  The fully lined interior provides added protection for your weapon.  The B716 retails for $115.60.
The B416 Bootlock Ankle Holster provides the same sturdy ankle wrap, but utilizes a high tensil strength elastic holster body that is lightweight and exceptionally low profile.  The B416 retails for $54.95. Both holsters are sized to fit most small frame auto-pistols and revolvers and are offered in right – or left-hand carry.
About Gould & Goodrich
As with all Gould & Goodrich products these items are made in the USA.  Gould & Goodrich's commitment to excellence is based on a strong belief in the American worker and the quality of American made products.  Since 1985, Gould & Goodrich has produced its complete line of holsters, belts and accessories at our 50,000 sq. ft. facility located in the heart of North Carolina.
To receive a free catalog of product in leather, nylon and synthetics, write to Gould & Goodrich, 709 E. McNeil Street, Lillington, North Carolina, 27546, USA. Call 910.893.2071 or 1.800.277.0732 toll-free. E-Mail info@gouldusa.com or visit us at www.gouldusa.com for more information.