PRESS RELEASE
Galco Gunleather's M6X Holster Receives the 2013 NRA Golden Bullseye Award
---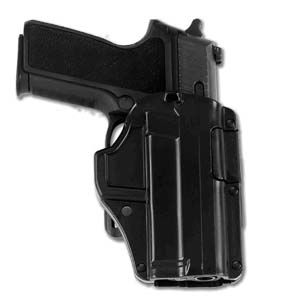 Phoenix, Ariz. - Galco Gunleather's patented M6X Auto Locking Holster has received the 2013 NRA Golden Bullseye Award for "Shooting Accessory of the Year" from American Rifleman magazine!

The Golden Bullseye is awarded by NRA publications in recognition of the finest shooting products available. To be eligible for the Golden Bullseye Award, a shooting-related item must be recently introduced, widely available, reliable, innovative, stylish, and tested by the NRA publications staff.

"We're very proud that American Rifleman has chosen our M6X holster for its 2013 award," said Richard Gallagher, President of Galco International. "While it was still in the very early stages of development, we knew the M6X would have broad appeal for both law enforcement and civilian carry. Secure handgun retention, a draw stroke so fast and intuitive that it's unmatched in the marketplace, and a price point about the same as a couple boxes of ammunition have combined to make the M6X a leader in the autolocking holster field."

Galco will formally accept the Golden Bullseye Award at an invitation-only breakfast during the 2013 NRA Annual Meetings & Exhibits in Houston, Texas.
About Galco Gunleather 
Galco is a major force in real-world firearms usage. Galco's array of law enforcement products ranges from concealment holsters to rifle slings approved by the National Tactical Officer's Association. 'Like' Galco onFacebook and visit the official website.