Kershaw Knives Presents the Facts on Speed-Safe® Technology
---
What is Speed-Safe?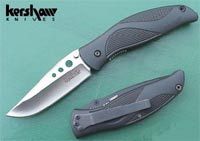 Speed-Safe® is the patented, assisted-opening system built into many of Kershaw''s best-selling Ken Onion knives. Speed-Safe assists the user to smoothly open the knife with a manual push on the blade''s thumb stud or Index-Open system. (Index-Open uses a protruding portion of the blade''s finger guard to give the user an alternative to the thumb stud. The user manually pulls back on the protrusion with the index finger to open the blade.)
How Does Speed-Safe work?
The heart of the Speed-Safe system is its torsion bar. Closed, the torsion bar helps keep the knife closed, preventing it from being opened by "gravity." In order to open the knife, the user must apply manual pressure to the thumb stud to overcome the resistance of the torsion bar. After the blade is out of the handle, the torsion bar moves along its half-moon track and takes over. The blade opens smoothly and locks into position, ready for use.
Is a Speed-Safe knife a switchblade?
There are many unique features of Speed-Safe knives that make them quite different than knives that are considered switchblades. Unlike a switchblade, Speed-Safe blades NO NOT deploy with the push of a button in the handle or by gravity alone. Instead, the user must manually overcome the torsion bar''s resistance- using the thumb stud or Index-Open protrusion on the blade itself-in order to engage the Speed-Safe system. Because the user must manually overcome the torsion bar''s resistance, Speed-Safe knives fall fully outside the Federal definition of a switchblade. However, due to the complexity and constantly changing nature of these laws and regulations, it is impossible for Kershaw Knives to be aware of every restriction on every location in which our knives are sold or carried. It is the responsibility of the buyer to investigate and comply with the laws and regulations that apply to their specific area. At Kershaw, we are proud to be able to offer this convenient, secure technology.
For more information on Kershaw''s Speed-Safe technology or to view their full line of knives and accessories, please visit www.Kershawknives.com