PRESS RELEASE
Lifeloc Technologies Introduces the EASYCAL®, an Automatic Calibration, Gas Management and Record Keeping Station for Portable Breath Alcohol Testers
---
EASYCAL® automates breath alcohol tester calibration, accuracy checks and record keeping in law enforcement, healthcare and DOT mandated alcohol testing programs.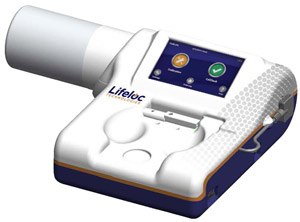 Wheat Ridge, Colorado - Lifeloc Technologies, a leading manufacturer of evidential breath alcohol testers and passive alcohol screening devices, is pleased to announce the EASYCAL automatic calibration station.
For the first time in portable breath alcohol testing, the EASYCAL station automates routine breathalyzer calibration and compliance based verification checks and record keeping. Users realize time and cost savings from the elimination of manual calibration sequences, from reduced gas usage, and from automated record keeping. EASYCAL eliminates the possibility of accidental calibration errors from careless, inattentive or inexperienced calibration technicians.
EASYCAL also simplifies calibration gas management by keeping track of gas usage, cylinder expiry date, altitude correction factors and gas standards so you don't have to. All instrument calibration and cal-check events are securely retained and can be printed or exported according to DOT evidential breath testing regulations or state law enforcement requirements.
Barry Knott, president of Lifeloc Technologies commented, "Lifeloc is making breath alcohol testing compliance easy and foolproof for our Law Enforcement, Workplace and international customers by reducing human error and simplifying breathalyzer calibration, gas management and record keeping.
"Our International customers benefit in a big way," said Yolanda Gonzales of Lifeloc. "Breathalyzer calibration can now be checked and performed on-site. Users eliminate the paperwork, freight costs, service charges and downtime associated with sending instruments out for calibration."
Kelly Silverman, Director of Product Management for Lifeloc concluded, "Professional breath testing programs typically require regular and event based calibration and cal-checks. With EASYCAL our users will always be confident that compliance mandated activities get done properly. The time and cost savings are much appreciated too."
Watch the EASYCAL video here.
For more information on how the new Lifeloc EASYCAL station can enhance breath alcohol testing compliance visit us at http://www.lifeloc.com or email us at sales@lifeloc.com
About Lifeloc Technologies 
Lifeloc Technologies (OTC:LCTC) is a trusted U.S. manufacturer of evidential breath alcohol testers and provider of drug testing products for Workplace, Law Enforcement, Corrections and International customers.