PRESS RELEASE
Protection and Flexibility Key to Hatch® PPG Glove
---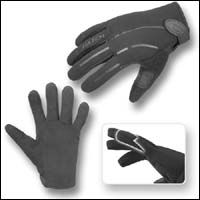 Our patent-pending design features the best cut-resistant X11™ liner covered in Chamude synthetic leather for the inside of the hand. An Armortip™ puncture-resistant system protects the leading edges of the fingertips and sides of the index and pinky fingers.
PPG Puncture Protective Gloves are tested for puncture resistance under the NIJ test protocol. This unique system provides protection where 80-90 percent of needle stick injuries occur, yet keeps the glove flexible enough for performing proper frisks and searches with confidence. The neoprene and spandex laminated back with hook and loop closure flexes and breathes to keep hands cool and provide a snug fit.
Additional information can be found at www.hatch-corp.com.