PRESS RELEASE
New Hand Restraint Mitt; making transporting inmates completely safe for the first time
---
DANVILLE, Ill. - Advanced Restraint Systems LLC, is a leading provider of new innovative restraint devices for today's Prisons, and Jails. We would like to announce one of our best restraint products to date; the Secure Fit Restraint Mitt. The Secure Fit Restraint Mitt is the newest and most innovative product to be introduced to the Corrections market today.
Invented by a Disabled Iraq War Veteran, with a Federal Corrections background, after a very frightening experience of having an inmate pick, and escape his double locked handcuffs during a transport, the great idea of securing Inmates hands, rather than just their wrist became a reality. This led to the creation of the Secure Fit Restraint Mitt.
The Secure Fit Restraint Mitt when used in conjunction with the handcuffs, or other wrist restraints; offers maximum protection against picking, shimming, tampering with, and escaping the handcuff locks.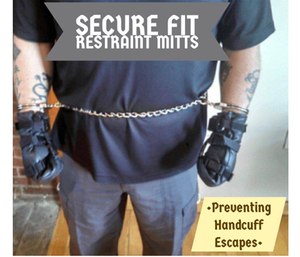 The Secure Fit Restraint Mitt acts as a re-enforced Strait Jacket for the hands; it is re-enforced with a cut resistant inner lining, constructed with nonslip military grade straps and materials, and is designed with durability in mind.
Made of the most durable and high quality grade material on today's market, the Secure Fit Restraint Mitt provides maximum protection against all (not some) handcuff escapes. Handcuff companies for years have tried to figure out how to make the handcuff more secure, more effective; they have spent all their time and research focusing on the cosmetic side of the handcuffs to render a solution, and to solve the century old problem of making handcuffs escape proof; this all while inmates have been escaping handcuffs, and killing law enforcement officers, bailiffs, and correctional officers, and jailors on a continuing basis around the nation. Just research the numerous horrific stories.
If all the benefits listed here, are not a great enough reason to invest in the SFRM for your Prison, or Jail, there are more. Other benefits that are offered by the Secure Fit Restraint Mitts are as follows; they prevent contraband from being intercepted by inmates while in transport, they prevent inmates from retrieving transport officers guns, they can be used for inmates with mental illness to prevent cutting, or suicide attempts, and they increase officer reaction time in a handcuff escape attempt.
Secure Fit Restraint Mitt: To order yours today, just call! 978-526-8494, or go online to www.advancedrestraintsystems.com, or: www.rencogloves.com