4 ways investing in a body scanner mitigates liability in corrections
Use of a body scanner will reduce the amount of contraband in your facility
---
By Corrections1 Staff
Inmate Smith has been coming in and out of your facility for years. He comes in on a burglary charge and he is under the influence; Smith detoxes during his first month inside. He starts taking better care of himself during month two, is sentenced in court and transferred over to the inmate worker's pod for the remainder of his time in your facility. He enrolls in a distance learning course and starts back up on his college classes. At this point in his life, this inmate comes into contact with positive influences while he's in custody.
Eight months into his sentence, Smith overdoses on fentanyl that somehow made it into his housing unit. Your agency, which spent so much time, money and effort rehabilitating Smith, is facing a multi-million-dollar lawsuit for allowing a deadly drug into a secured facility. The press turns its focus from the positive influence your agency has on the community to "How did the justice system fail Smith?" Investigations commence and a lack of answers leads to speculations that staff members were lax in their duties to stop contraband at the gate. Worse, claims are made that your staff may have brought drugs into your corrections facility.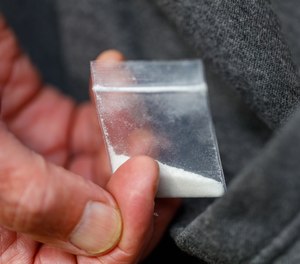 This nightmare scenario plays out across regularly. Regardless of training in search techniques, corrections professionals at entry points to a locked facility are often working short-staffed and exhausted. Even your top performers will sometimes miss a critical introduction of contraband into your facility. It may be deadly narcotics, cell phones, or even a firearm that staff miss at the entrance to the secured portion of your institution. Despite the significant percentage of contraband your staff does keep out of the facility, the question will remain, "Did you do everything you could to keep your staff and inmates safe?" Your answer can be a resounding, "Yes!" 
As science continues to produce better tools for corrections, more agencies are deploying full-body scanners to help reduce liability in locked facilities. Contactless body scanners are easy to use, and some brands can be customized to an agency's specific needs. Top body scanner manufacturers have significantly reduced the radiation exposure of each x-ray scan and these machines can be utilized daily for any inmate entering a jail or prison. For volunteers, civilian staff and sworn staff, advanced technologies including Millimeter Wave detect contraband concealed under and inside clothing without admitting ionizing radiation.
Here are four ways investing in a body scanner mitigates liability in corrections:
1. Stop narcotics before they spread to your population
Most drugs introduced into a corrections facility are intended for multiple users. One successfully smuggled batch of drugs will make its way to multiple housing units before you realize there is a problem. The number of resources you will need to stop the effects grows exponentially after the contraband is spread throughout your facility. Shoring up detection at an entry point will catch larger amounts of narcotics with less staff time used in searches and less damage done inside the facility. One detection at the entry point stands to save multiple lives and avoid expensive lawsuits.
2. Proof of imagery
While you can deduce who brought contraband into your facility from witnesses and timelines, a body scanner leaves no doubt that the person who passed through the entry point with contraband is the offender. This makes it simpler to write up a case, obtain a confession, and see justice done when a smuggler is caught.
Scanner technology also gives you peace of mind in case you have a hunch about a fresh intake, but no warrant to search. Once you know a subject has no contraband on board, you have more temporary housing choices in reception because you know you have done what is possible to address your hunch.
3. The fear of being caught
Inmates manage risk, just like anyone else. Body scanners at your entry points make it significantly more likely smugglers will get caught with contraband. This will reduce the number of inmates willing to take chances. Use of a body scanner will reduce the amount of contraband in your facility, and the level of liability you take on as a result.
4. Validate your staff
The dark truth is there have been corrections staffers who brought contraband into jails and prisons. As you know, no matter how small the percentage of bad actors in the profession, we all pay the price when a corrections officer breaks the law, even two states away. When staff members use a body scanner each time they enter a corrections facility, they reduce the reason for needless finger pointing. The body scanner helps to prove the integrity of your staff. It also broadcasts how seriously an agency takes the safety of staff and inmates. Thankfully, by deploying Millimeter Wave-powered body scanners, this can be accomplished without exposing staff to radiation.
With more consistent use of state-of-the-art body scanners in corrections facilities today, agencies are showing more success in keeping out contraband before drugs and weapons spread into jails and prisons at a higher cost for detection and removal. Additionally, when an incident involving contraband lands an agency in a court of law or public opinion, use of body scanners shows that the administration took a legitimate extra measure to keep the contraband out of their facility.

Request information from Secure Technology Value Solutions (STVS)
Thank You!