Drug detection is elementary for Fla. jail K-9s Holmes and Watson
The German Shorthaired Pointers and their handlers will detect drugs in Hillsborough County Sheriff's Office jails and courthouse holding areas
---
By Tony Marrero
Tampa Bay Times
TAMPA, Fla. — The Hillsborough County Sheriff's Office has assigned a pair of powerful noses to keep drugs out of the county jail.
Sheriff Chad Chronister announced Tuesday that he has dedicated two K-9 deputies and their dogs to thwart efforts by arrestees, inmates, contracted employees and even his own deputies to smuggle drugs into the jail.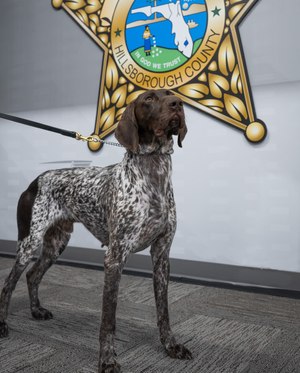 K-9 deputies Alyssa Doheny and Clinton Leapley and their partners, both German Shorthaired Pointers named Watson and Holmes, are now part of the office's jail intelligence squad. They will work in the Falkenburg and Orient Road jails and at the courthouse in areas where inmates are being held, Chronister said during a news conference at his office's Ybor City headquarters.
Until the new program started last week, the office's K-9 deputies and their dogs had been called on to do random searches at the jail, Chronister said.
"I wanted to have dedicated K-9s in the jail where their sole focus is making sure they're in detention facilities, they're down in the courthouse," he said. "These deputies and their K-9s are going to be in these areas to make sure that we're keeping them sterile and free from any type of illicit drug."
Two years ago, the office documented 289 incidents of drugs being introduced into, or circulating in, the jail facilities, according to Chronister. He said the office dedicated more time to training its own deputies to snag contraband and asked other agencies that bring arrestees to the jail to do the same.
Last year, the number dropped to 172, Chronister said.
"But we knew we needed to be more proactive," he said.
In the last year, 46 inmates have been exposed to some type of illicit narcotic that required them to be treated with the overdose reversal drug naloxone, according to Chronister.
The office also recently invested in a new scanning machine that Chronister said is about 25% more effective at detecting drugs on or inside a person. The machine, a Clearpass Digital Full Body Security Screening System, cost the office about $172,000 according to an agency spokesperson. The scanner is set to be installed soon, Chronister said.
Chronister said drug sales in the jail creates an "underground currency" that can spark violence.
It's not just arrestees and inmates who are bringing in drugs. Contracted employees, such as those who work in food service and the infirmary, have also been caught bringing in drugs.
So have jail deputies.
In January, Chronister announced that Deputy James Bradford had been arrested on suspicion of bringing pot-laced food into the jail and selling it to inmates. At the time of his arrest, Bradford had in his lunchbox more than a pound of cannabis-laced brownies individually wrapped for sale to inmates, Chronister said.
Court records show Bradford, as part of a deal with prosecutors, pleaded guilty last week to introducing contraband into a detention facility, and Judge Lyann Goudie sentenced him to three years of probation and 150 hours of community service. Bradford also relinquished his state law enforcement certification.
In March, the Times reported that Deputy Marlon Blankenship had resigned amid an investigation into allegations he sold THC oil vape pens and edibles to inmates in the county jail. Later that month, prosecutors charged Blankenship with introducing contraband into a detention facility and receiving unlawful compensation or reward for official behavior.
Blankenship has pleaded not guilty and the case is still pending, records show.
The dogs and their handlers have already shown their value, Chronister said.
Leapley spotted an unattended package in the Falkenburg Road jail's canteen area, and Holmes alerted to suspected illicit drugs inside. Chronister said deputies found a baggie with a white substance and officials were working to confirm what it is and how it got into the jail.
©2023 Tampa Bay Times.
Visit tampabay.com.
Distributed by Tribune Content Agency, LLC.
McClatchy-Tribune News Service
Request product info from top Corrections Body Scanners companies
Thank You!