Fulton County Jail: 9 things to know
Sheriff Patrick Labat says the jail will follow "our normal practices" when former President Trump arrives for booking
---
By Jeremy Redmon
The Atlanta Journal-Constitution
ATLANTA — Fulton County's troubled jail is figuring prominently in the criminal case against Donald Trump and 18 of his allies. Fulton District Attorney Fani Willis has given the defendants until Friday at noon to surrender at the lockup, where they will be processed and booked. Sheriff Patrick Labat said his deputies would be "following our normal practices," suggesting the former president and his co-defendants would be treated the same as any other person charged with a crime. That means they will be fingerprinted and have a mug shot taken.
The U.S. Department of Justice is investigating conditions inside the jail, which has been plagued by inmate deaths, violence and problems with health care.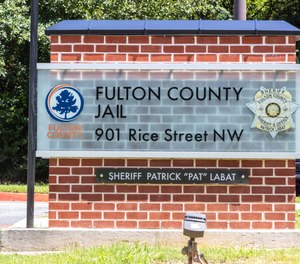 Here's a primer on the jail:
Where is it?
In Atlanta at 901 Rice St. NW, just west of the Georgia Tech campus and north of Bankhead.
When did it open?
1989
Who is in Charge?
Labat, who was elected to his first term in 2020. Atlanta's former Corrections Department chief, Labat defeated then-Fulton Sheriff Ted Jackson in a runoff election that year. Labat is an Atlanta native and Clark Atlanta University graduate who began his career as a detention officer in 1988.
Crowding
Fulton's jail has capacity for 2,688 inmates but was holding 3,221 in April, according to Georgia Department of Community Affairs records. Of those, 2,944 were awaiting trial.
Inmate deaths
More than 60 people who were held in Fulton's jail died between 2009 and October 2022, the highest total for any jail in Georgia during that time, according to an Atlanta Journal-Constitution investigation.
Health care in the lockup
In March, the company that provides health care for the jail's inmates warned that its staff had been assaulted, a patient had been stabbed and that Fulton's lockup was the most dangerous of the more than 70 jails it services nationwide. Birmingham-based NaphCare later told the Sheriff's Office that conditions had worsened and that it would end its $27 million contract with the county on May 31, seven months early. Fulton commissioners ultimately approved a $4.8 million contract amendment with NaphCare to keep the company in place as the jail's health care provider through the end of this year.
High-tech responses
Labat's office has installed surveillance cameras, "full body scanners" and X-ray machines in the jail. Those steps, he said, have thwarted numerous attempts to bring contraband behind bars and have resulted in the arrest of two NaphCare "employees/contractors."
Federal probe
In July, the Justice Department announced it had launched a civil rights investigation of conditions in the jail, citing the Sept. 13 death of a homeless and mentally ill man in the lockup's psychiatric wing. The body of Lashawn Thompson was found covered with insects. DOJ officials said they had found credible allegations that the jail was "structurally unsafe, that prevalent violence had resulted in serious injuries and homicides, and that officers were being prosecuted for using excessive force." On Aug. 17, a 66-year-old man being held on a shoplifting charge was found dead in the jail's medical unit. It was the third such death in the jail since July and the second in a week, according to the Fulton Sheriff's Office.
Plans for a new jail
In July, Fulton officials tentatively approved plans for a new 4,500-bed jail estimated to cost $1.68 billion. It could potentially be funded with bonds issued through the South Fulton Municipal Regional Jail Authority. County officials said they would explore ways to cover the bond payments, including through seeking an extra sales tax.
©2023 The Atlanta Journal-Constitution.
Visit at ajc.com.
Distributed by Tribune Content Agency, LLC.
McClatchy-Tribune News Service
Request product info from top Corrections Body Scanners companies
Thank You!