PRESS RELEASE
Introducing DRUGUARD Drug Detection Software
---
The necessity of quick and effective detection of drug containers concealed inside the human body pushed ADANI to the new technology that could response to increasing drug smuggling threats.
In the matter of seconds ADANI's intelligent software analyzes the images and outlines the suspicious areas where the drugs are suspected.
KEY FEATURES: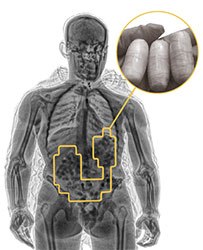 Drug searching automatization
Color outlining
Self-learning algorythm
Low false alarm rate
SOFTWARE CAPABILITIES:
Concealed narcotics localization
Less image analysis time
Remote upgrade capability
Storage of all images with outlined zones
This software is created for ADANI Conpass Full Body Screening Systems.
COMBATS:
Security threats
Smuggling
Thefts
REVEALS:
Narcotics concealed in body cavities
Precious stones and rare metals
Electronic devices
Explosives (including liquid)
Detonators
Knives and blades (even ceramic)
Weapons
Learn more at www.adanisystems.com.

Request more info from ADANI Systems
Thank You!