How one tool helps COs screen mail for illicit drugs quickly and safely
ChemImage's VeroVision Mail Screener provides a reliable, non-destructive, efficient approach to detecting illicit drugs in the mail quickly and safely
---
Sponsored by ChemImage
By Corrections1 BrandFocus Staff
The mail remains one of the most enduring and hard-to-detect channels for smuggling illicit drugs to prison inmates. Once inside, the use and sale of these drugs results in increased violence toward inmates and staff alike, plus heightened medical costs due to injuries and overdoses.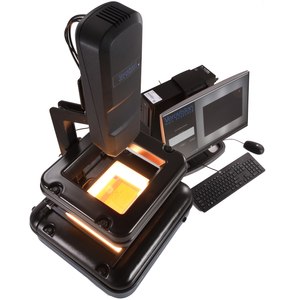 Mindful that prisons do check incoming mail for contraband, drug smugglers have become creative and devious in their concealment efforts. They hide drugs under postage stamps and stickers, within the seams of envelopes and blended into adhesives. Some mix illicit substances into crayons, inks and markers that are then used to write on letters and greeting cards. Others dissolve drugs in acetone, ethanol or water, and then spray or soak the mail in the solution before sending it.
Recent technologies can help thwart these efforts. The VeroVision Mail Screener from ChemImage is able to detect these smuggling attempts using a computer-based scanning station. The VeroVision Mail Screener can help detect illicit substances that are not easily detected with conventional visual or manual inspection: Simply open the envelope, separate the contents from the envelope, place the mail item (either envelope or contents) on the scanning platform, push the scan button and get the results.
This method reduces the risk of exposing correctional officers to dangerous substances by limiting the amount of time and extent to which they handle the mail. Because all mail must be opened and inspected for other contraband (blades, pornography, gang messaging, etc.), this method integrates seamlessly into the overall mail sorting process.
How VeroVision works
The VeroVision Mail Screener uses powerful imaging spectrometers, modern sensor technology and proprietary software that integrates algorithms and machine learning to detect hidden drugs. The station is operated by a simple, one-click user interface that allows the operator to scan the mail item within 10 seconds. Physically, its base resembles a glass-lidded document scanner with a camera-like device mounted above it on a pole and an intermediate box located between the two.
The scanner makes it easy to screen mail quickly, freeing up staff time for other important tasks. To operate, simply lift the glass lid on the scanning base, put the letter in, close the lid, then press the "scan" button on the touchscreen monitor. The mail is scanned using near-infrared light, with the results displayed on the screen along with any relevant detections.
If the mail is drug-free, VeroVision says so. If a drug or drugs are detected, a presumptive identification scan can be performed, with VeroVision reporting what the concealed substance(s) might be under the heading, "Presumptive Identification Results."
These detection results are generated in 10 seconds or less (although presumptive identification of a detection takes, on average about 90 seconds), providing contraband security to the institution without significantly impeding the mail handling process. Meanwhile, the VeroVision Mail Screener can generate official reports (including images) of those cards and letters found to contain illicit substances for follow-up investigations.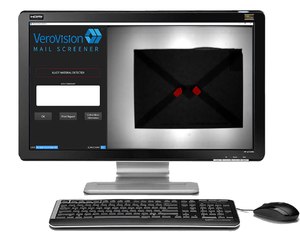 An in-house crime fighter
The proprietary software and detection algorithms, facilitated by a liquid-crystal based imaging spectrometer, is the heart of this device's drug detection capabilities. But fighting crime in this manner requires a one-two punch: The scanned images that this equipment generates are then compared against the VeroVision's database of known illicit materials, delivering presumptive identification results in about 90 seconds.
This combination enables the VeroVision Mail Screener to detect multiple common illicit drugs and cutting agents hidden in envelope seams, through up to three layers of paper, mixed with crayon, markers and paint, or concealed under stamps and stickers.
A new add-on software upgrade can also detect methamphetamine and some synthetic cannabinoids that have been dissolved in liquid and sprayed or soaked onto paper. As criminals come up with new drug recipes, or as new drugs rise in prevalence, the VeroVision Mail Screener's database can be updated to include their chemical profiles.
Promoting safety for everyone
Keeping drugs out of correctional facilities is paramount not only for safely, but to promote addiction recovery. According to the National Institute on Drug Abuse, research shows that an estimated 65% of the United States prison population has an active substance abuse disorder. Given that there are about 1.8 million people in American prisons, there are nearly 1.2 million inmates who would be open to receiving mail containing hidden drugs.
Without access to drugs, inmate violence and overdoses go down, while the chances for them to recover from addictions and begin successful lives following release go up. Promote safety for the inmates in your care, as well as correctional staff, by investing in tools to screen mail quickly and effectively and help keep contraband drugs out of your facility.
For more information, visit ChemImage.
Read Next: Spotlight: ChemImage products help quickly, easily and objectively detect drugs concealed in inmate mail
Request information from ChemImage Corporation
Thank You!