Primedia Outdoors Editor's Roundtable, Day Four: Springfield Armory, Magtech, Meopta Optics, and Insight Technologies
---
The writers and editors of Primedia outdoors get up close and hands on with the latest the hunting and shooting industry has to offer.
By Aaron J. Decker, Guns & Ammo Magazine
Day four could be described as more of a "tactical" day as many of the presenters had firearms or firearm accessories that would fit into that realm. Spring Field Armory, Magtech, Meopta Optics and Insight Technologies were all on the docket for day four.
SPRINGFIELD ARMORY
Springfield spokesman and world-class shooter Rob Leatham had the honors of presenting Springfield''s presentation. It was fitting that this 14-time USPSA National Champion didn''t use a power-point presentation but rather shot from the hip about the impressive line-up of guns available for shooting on the day.
Leatham started his presentation by providing information on new additions for 2004.
According to Leatham, the 1911 GI 45 Series line-up has been "by far our most popular line this year. This is our price point gun as well, selling for under $400 in some promotions."
Leatham then moved on through Springfield''s 1911 family, discussing the Mil-Spec, Custom Loaded, Loaded Champion/Ultra Compact and finally the tactical response pistol or TRP 1911''s.
Springfield''s popular XD series has several new variations. The XD Sub-Compact Black is available in 9mm and .40 S&W and an Xtreme Mini Light can be added to the already tiny sub-compact. Two-toned versions in the sub-compact are also available with the OD Green and Bi-tone.
The XD series is also going to feature a pistol chambered for the 45 GAP.
From the rifle family, Leatham talked about the new M1A SOCOM 16, which is chambered for 7.62mm and weighs 8.9 pounds.
After the presentation at the pistol range there were more guns available to shoot than shooters. This was a handgun lovers dream as all levels of the Springfield family of guns were on hand from the XDs to the TRPs, even a Rob Leatham Signature Series 1911. Craig Boddington and myself spent a good 30 minutes banging steel plates and emptying clips of Magtech Ammo with the various handguns from the Springfield family. The best part of the shooting time was seeing Springfield Armory President Dennis Reese on hand to personally answer questions and load clip-after-clip-after-clip-after-clip for not only Mr. Boddington and myself, but the other shooters as well. Spoiled!
MAGTECH
Magtech''s Executive Vice President and General Manager, Erik Leslie, used a bulk of his presentation to inform the writers and editors about the South American company. Magtech is the largest ammunition manufacturer in the southern hemisphere, with all of its ammunition being manufactured out of several plants in Brazil, with the main plant located in Sao Paulo. The company is vertically positioned; powders, primers, brass etc. are all obtained from company resources. 70 percent of Magtech''s ammunition is exported to 40 different countries with 20 national police forces, 100 of state agencies, and the Brazilian armed forces all using Magtech ammo.
After the brief information session on the Magtech company, Leslie spent the remainder of his time discussing some of the products from the Magtech family.
Magtech First Defense is available in 9mm, 45 Auto, and 40S&W. The rounds are designed with a 100 percent copper bullet to achieve 100 percent weight retention.
The Magtech Cowboy Action loads are available in 357 Magnum, 38 Special, 44 Special, 45 Colt, and 44-40 Winchester. These items are a hot commodity according to Leslie.
"These people are very serious about what they do. Although we only market five cowboy action products, we sell a boatload of this stuff. This is a great product, all with flat-nosed authentic bullets. A real neat category for us," Leslie said.
Leslie also told of Magtech signing 11-time ICORE revolver champion Jerry Miculek as a spokesman for the Magtech Sport Shooting line of ammunition.
"Jerry is considered the world''s best revolver shooter and our Sport Shooting ammunition is high volume for us. We sell (a lot) of it. Our goal is reliability, performance, and value," said Leslie.
MEOPTA OPTICS
A friendly and familiar face greeted the writers and editors of Primedia Outdoors when Walter Seace ventured to the podium to start the Meopta Optics presentation. Seace had been to Roundtables previous to this one, but as a sales representative for Primedia Outdoors. Seace is now the National Sales & Marketing manager for Meopta and was meeting with his former collogues from the other side of the table.
Meopta Optics is an arm of a larger New York based worldwide company called TCI, which manufactures cinema projectors, photographic enlargers and lenses, medical and laboratory microscopes, astronomical telescopes and a complete line of sports optics.
The sports optics division was originally started by demand rather than choice. The company opened in 1933, manufacturing cinema lenses and products. After Nazi Germany took control of the country in World War II, it was decided by the invading power that the company was to start manufacturing riflescopes and binoculars. Post World War II, the Soviet Union kept the company in the sport optics field in addition to allowing them to return to their photographic roots. At the end of the Cold War, the company began to branch out into other areas of industry.
You might not know Meopta Optics is the largest sports optics company in Central Europe, which includes Germany and Austria. However, only five percent of TCI''s sales are U.S. based, a percentage Seace hopes to increase over the next several years.
The line of Meostar riflescopes are new for 2004. Water proof and fog proof, each scope features a MB-550 lens coating, which is a "multi-layer, ION assisted, anti-reflective coating, designed to reduce reflection of light on air to glass surfaces. This provides a 99.8 percent light transmission," which according to Seace, is unmatched in the sports optics industry.
The Meostar line is seven scopes large and ranges from 1-4x22 to 4-16x44. A variety of reticles are offered, including some illuminated models. Only available in 30mm, the riflescopes are constructed from high-grade aluminum alloy, feature a matte black finish and have single click 1/4-inch adjustments at 100 yards.
Two other products to look for are the TGA 75 Spotting Scope and the HA & HS Spotting Scope. The TGA is more ideal for the hunter as it''s compact (only 13 inches and 41 ounces in its collapsed position) and gives you an option of adding a ranging reticle.
Be on the lookout for more Meopta Optics in the coming years. The company''s U.S. presence it still in its infant stages, but from the look of it, is definitely on the right path to gaining a foothold in the ultra competitive sport optics market.
INSIGHT TECHNOLOGIES
Insight Technologies had the dubious position of presenting last on the fourth day, a time where writers and editors are a bit on edge from the barrage of information that''s been thrown at them in the previous 96 hours. Sensing this, Insight Director of Commercial Business, Alan Howe, kept his presentation short and lively, but also provided in-depth information on the company and the products it manufactures.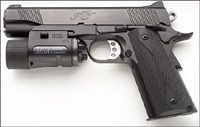 The company was built from the ground up, literally, as Ken Solinsky worked on his first projects from his home''s basement in 1988. After bidding for, and winning, a military contract, the company started to grow. . .primarily as a defense contractor. Just in the past five years, it''s opened its doors to the civilian sector.
Howe deadpanned that a bulk of Insights advertising is done free-of-charge, courtesy of the different U.S. newspapers and news magazines that are covering the wars in Iraq and Afghanistan. Howe showed many photos of soldiers carrying firearms equipped with Insight accessories mounted to their weapons, including a Time magazine cover.
New for 2004, the Xtreme Series tactical illuminators offer a peak output of 125 lumens and have a minimum run time of one full hour. Here''s look at the specs:
M3X
M6X
Technical Data
Technical Data
DIMENSIONS:
Pistol: 3.6"Lx1.6"Wx1.6"H
Long gun: 3.7"Lx1.6"Wx1.6"H
DIMENSIONS:
Pistol: 3.4"Lx1.6"Wx2.1"H
Long gun: 3.6"Lx1.6"Wx2.1"H
WEIGHT:
Pistol: 3.9 oz. w/ batteries
Long gun: 4.3 oz. w/ batteries
WEIGHT:
Pistol: 4.4 oz. w/batteries
Long gun: 4.8 oz. w/ batteries
WATERPROOF:
66 ft. for 2 hours
WATERPROOF:
66 ft. for 2 hours
RUN TIME:
Minimum 60 min. continuous
RUN TIME:
Minimum 60 min. continuous
PEAK OUTPUT:
125 Lumens
PEAK OUTPUT:
125 Lumens
RANGE:
30 meters
RANGE:
30 meters
LAMP TYPE:
Incandescent, xenon-filled
LAMP TYPE:
Incandescent, xenon-filled
BATTERY TYPE:
(2) lithium 123, 10-year shelf-life
BATTERY TYPE:
(2) lithium 123, 10-year shelf life
VOLTS:
6 DC
VOLTS:
6 DC
TEMP. RANGE:
-32 C to +65 C
TEMP. RANGE:
-32 C to +65 C
LASER OUTPUT POWER:
(max) 3.0-3.5mw, class IIIa
LASER WAVELENGTH:
650nm*
LASER BORESIGHT RETENTION:
<1.5" avg. at 25mm
*Infrared laser option available
Editor''s note: New firearms, ammunition, optics, gizmos and gadgets are all apart of the Primedia Outdoors Editor''s Roundtable held at the Pike-Adams Sportsman''s Alliance Park (PASA) in Barry, Illinois. Designed for the editors and writers that comprise Primedia Outdoors, the Editor''s Roundtable is held twice a year and provides magazine and television staffs an inside and hands on look at different products and gadgets the shooting and hunting sports industry has to offer for the current year and beyond. This is part four of a five part series.