PRESS RELEASE
Manufacturer of Original Gun Kote™ Introduces First One-Step Air Cure Firearms Finish On The Market
---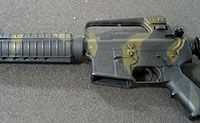 (Hayward, Wisconsin) Amateur and professional gunsmiths, law enforcement armorers, or anyone with a workbench or kitchen table, will now be able to add a protective, corrosion-resistant finish to a firearm without any need for ovens or special equipment.
KG Industries, manufacturer of the Original Gun KoteTM, and the acknowledged leader in the development of innovative protective coatings, lubricants and cleaning solutions for the firearms, aerospace and automotive industries, has done it again. KG's new 1200 Series Stock-KoteTM is a single component, water based, polyurethane resin system. Stock-KoteTM is easy to apply with a simple airbrush, and it air dries in just eighty minutes or less at normal room temperature.
According to Joe Fazio, president of KG Industries, Stock-KoteTM is the most unique product on the market: "There are other air cure products on the market, but they're two-part coating systems which are messy and difficult to apply. Stock-KoteTM was developed in response to the requests we had from our customers who were having trouble achieving nice, smooth finishes. We also know from our extensive testing that Stock-KoteTM is extremely tough and protects equally well against chemicals, scratching and chipping. So, comparing Stock-KoteTM to the other air cure finishes is like comparing diamonds to rhinestones."
In addition to clear coat, Stock-KoteTM is available in popular colors, which allows for solid color, multi-color or even custom camouflage color treatments. For information or to order, contact:
KG Industries
1670 South Highway 63, Bldg 63
Hayward, WI 54843
Phone:1-800-348-9558
Fax: 715-934-3570
Email: adam@kgcoatings.com
Web: www.kgcoatings.com