Violence spiking in Ind. prisons due to bed shortage
---
Corrections1 staff
The Associated Press is reporting that assults and attacks on staff in Indiana's prisons are rising quickly and steadily. 
The state prison chief claims the violence is a product of overcrowding, tied to inadequate funding for new beds.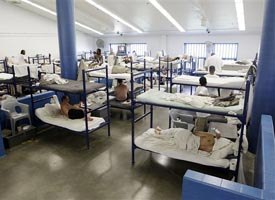 The Journal Gazette of Fort Wayne reports that in the first half of 2009, Indiana's prisons had 514 inmate-on-inmate attacks, 62 of which caused serious injuries.
During all of 2008, there were only 719 of such attacks, 101 of them with serious injuries.
Indiana houses 27,300 inmates, but between 1,000 and 1,200 new inmates arrive each year. Commissioner Edwin Buss says the shortage of bed space in some state prisons has created a volatile situation.
It has been several years since the DOC has received fresh funding for beds or officer recruitment.