6 things bodycams can do that fixed cameras can't
Body-worn cameras have become necessities for correctional facilities, rather than nice-to-have supplements to fixed camera surveillance
---
Sponsored by Axon
By Corrections1 BrandFocus Staff
Video surveillance has become a must-have technology for correctional facilities, and with good reason. Video cameras are a force multiplier for corrections staff, allowing them to monitor more areas and inmates than would be possible using human eyes alone.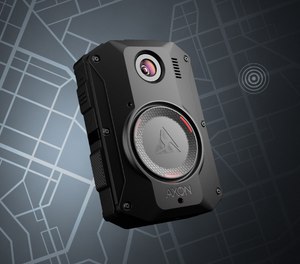 As well, video surveillance is vital to recording inmate-staff, inmate-inmate and visitor-staff interactions, especially when it comes to investigating altercations and contraband smuggling. Nothing resolves (or avoids) conflicting claims about what happened in an incident than unbiased video of what actually took place.
Both fixed CCTV cameras and body-worn cameras do their part in correctional facilities to enhance safety and operational integrity. But here are six key things bodycams can do to enhance safety that fixed cameras can't.
1. Bodycams provide more flexible coverage in more areas
By definition, fixed CCTV cameras are fixed in place. They cover what they can see from these locations, and that's it. In contrast, bodycams go wherever their wearers go.
"You've got classrooms, small closets and individual cells that CCTV systems just don't cover," said Bob Kennedy, a 37-year employee with the New York State Department of Corrections and Community Supervision who retired with the rank of associate commissioner. "Because they're mobile, bodycams can get into these spaces to record whatever happens between inmates, staff and visitors."
Even in areas covered by fixed cameras, you're going to have blind spots that the system can't see," adds Lt. Tim Klement, now in his 32nd year with the Los Angeles County Sheriff's Department.
"Bodycams gives you that up-close feeling of what's going on," Klement said, "and you can catch things that CCTV cameras can't pick up."
2. Bodycams capture audio, fixed cameras don't
What people say during an incident is just as important as what they do, particularly when it comes to adjudicating what happened after the fact. Fixed cameras only capture video, so the spoken words that might have triggered an incident are missing.
Bodycams capture both video and audio, so the complete record exists for everyone to see and hear.
"The audio is a huge benefit because it's helping you fill in the blanks when doing investigations to see the whole story," said Kennedy. "The audio also helps when the video is blurry or otherwise distorted. For example, in a use-of-force incident, the officer's bodycam is likely too close to the inmate to visually capture what's happening, but any verbal commands and responses will be recorded."
3. Bodycams provide better image quality
In theory, fixed cameras and bodycams both shoot video at 30 frames per second to provide realistic full-motion imagery during playback. In practice, some fixed cameras are connected to systems that record at lower frame rates in order to reduce the demand for digital storage space on local servers.
Add the fact that some of these fixed camera recording systems also use space-saving predictive algorithms to interpolate what happened between the missing frames, and the video they deliver can be misleading.
"In one such case, it looked like a deputy might have kneed somebody while they were on the ground," said Klement, "but it wasn't that the deputy kneed somebody, it was the deputy was moving his foot to try to get a better positioning. The way the fixed camera system captured it, it almost looked like a strike."
In contrast, bodycams shoot and record at 30 frames per second, capturing video images that provide a more accurate record of what actually happened.
4. Bodycams don't require expensive, time-consuming installations
It is neither cheap nor quick to install a fixed camera system.
"When you talk fixed CCTV systems, you're dealing with running conduit through concrete and steel, so it's usually a big capital project," said Kennedy. "When you talk about a large prison, you're talking from $7 million to $12 million to install a CCTV system."
In contrast, bodycams are small, self-contained units that cost a fraction of that estimated price to buy and service. As for the installation time? Clip the bodycam onto an officer and you're done.
5. Bodycam cloud storage allows easy access and storage expansion
Fixed camera video storage can be problematic. Footage stored on site devours server space, requiring many facilities to delete video files after a predetermined time period to make room for new ones. Searching the files that remain in storage can also be time-consuming, due to confusing user interfaces and inadequate search tools.
Bodycam systems with cloud storage offer a more flexible and option that can adapt as the facility's needs changes. For example, Axon bodycams that upload and store video into the company's Evidence.com cloud platform suffer none of these issues.
"With Axon Evidence.com and storage on the cloud, video files can be retrieved very quickly by a supervisor," said Kennedy. "Sitting at a computer or using a handheld device, you can pull it up, review it and forward to the principals if necessary. In my experience, the time saving is very helpful and useful."
6. Bodycams help probation and parole officers during home visits
Bodycams also can be issued to probation and parole officers to capture video and audio for home visits outside of correctional facilities to add critical details to their reports.
"These parole officers are going into houses and meeting with people, and bodycams can document what they do," said Klement. "It's basically an eyewitness for them whenever people challenge their reports, whether to substantiate what the officers have done or to resolve any complaints."
Visit Axon for more information.
Read Next: How bodycams in corrections can improve outcomes and accountability

Request information from Axon
Thank You!