PRESS RELEASE
MoU Limited to Develop TASER Less-Lethal Ammunition for the Metal Storm MAUL Weapon
---
Scottsdale, AZ -- TASER International, Inc., a global provider of safety technologies that prevent conflict and protect life, is proud to announce that it has entered into a Memorandum of Understanding (MoU) with Metal Storm Limited and BREON Defence Systems Pty Limited to develop and market TASER® less-lethal ammunition for the Metal Storm MAUL™ weapon.

Under the MoU the parties will collaborate to develop, produce and market Metal Storm MAUL™ ammunition that launches the TASER® Extended Range Electronic Projectile (XREP™).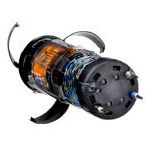 TASER International manufactures industry leading Electronic Control Devices (ECDs) that are used worldwide by law enforcement, military, correctional services, professional security, and personal protection markets.  TASER ECDs use proprietary technology to incapacitate dangerous or high-risk subjects who pose an immediate risk to themselves or others.  The use of TASER devices dramatically reduces injury rates for law enforcement officers and suspects.

The TASER XREP is the most technologically advanced projectile ever deployed from a 12-gauge cartridge.  It delivers a similar Neuro Muscular Incapacitation bio-effect as handheld TASER ECDs, but can be delivered to a much greater effective range – up to 100 feet from the operator.

Metal Storm's MAUL is a highly compact, multi-shot 12 gauge launcher that is ideally suited to law enforcement and military applications.  It can be fitted as an accessory to an assault rifle, or operated from its own shoulder stock or pistol grip attachments.  Weighing just 800 grams, MAUL™ uses Metal Storm's patented stacked projectile technology to provide semi-automatic fire as fast as the operator can squeeze the trigger.  A full weapon reload of up to five rounds takes less than two seconds.

TASER International Chairman and Founder, Tom Smith said that the MAUL and XREP combination would be ideal for sectors of the market where extended range was needed but size and weight had to be minimized. "We developed the XREP to provide an extended range for situations where a close approach was dangerous or not possible," he said.  "MAUL would provide this capability from a very lightweight, compact accessory launcher, rather than the operator having to carry a separate conventional shotgun."

Metal Storm CEO, Lee Finniear said that the TASER XREP would add a new and highly effective projectile to the MAUL™ less-lethal capability. 

"Our objective with MAUL™ has been to deliver a lightweight launcher that complements conventional assault rifles by providing a broad range of capabilities for non-lethal, door breaching and other specialized missions." he said. "The TASER XREP ammunition will provide the exceptionally versatile TASER Neuro Muscular Incapacitation from the MAUL™ weapon, with the added benefit of a longer range.  In our view MAUL™ plus the XREP would be a game changing combination for urban military and law enforcement operations."

BREON Defence Systems is also a party to the MoU.  BREON is the exclusive Asia Pacific Distributor for TASER products, and it recently signed an exclusive distributorship agreement with Metal Storm for MAUL™ for the law enforcement market in Australia and New Zealand.  BREON will provide local Australian support for the collaboration, plus assist with the development of effective marketing and business development strategies for the combined system. 

About TASER International, Inc.
TASER International, Inc. is a global provider of safety technologies that prevent conflict and protect life.  More than 16,200 public safety agencies in 107 countries rely on TASER® electronic control devices (ECDs) and AXON on-officer camera systems to help protect and serve.  TASER innovations benefit individuals and families too, providing personal protection and accountability while maintaining regard for life.  Since 1994, more than 236,000 individuals have relied on TASER technology as a means for effective personal safety.  Learn more about TASER International and its solutions at www.TASER.com and www.Evidence.com or by calling (800) 978-2737.  Be a part of the TASER community by joining us on Facebook, Twitter and YouTube.

About Metal Storm
Metal Storm Limited is a multi-national defense technology company engaged in the development of electronically initiated ballistics systems using its unique "stacked projectile" technology.  The company is headquartered in Brisbane, Australia and incorporated in Australia.  Metal Storm Limited technology and products are represented in the USA by Metal Storm Inc., which has offices in Arlington Virginia.

Metal Storm is working with government agencies and departments, as well as industry, to develop a variety of systems utilizing the Metal Storm non-mechanical, electronically fired stacked ammunition system.

Metal Storm's weapon technology uses computer-controlled electronic ignition and a system of stacked projectiles, to achieve a completely non-mechanical gun that is very lightweight and compact, providing a very high firepower to weight ratio.  The Metal Storm weapons system utilizes multiple barrels mounted together on one platform which allows varying munitions types to be deployed in a single, low cost, lightweight weapon system.  Firing the weapons by electronic ignition requires no moving parts, allowing reliable long term unattended weapon operation.

Request more info from Axon
Thank You!