PRESS RELEASE
Security Equipment Corporation Introduces SABRE RED® Aerosol Grenades
---
use if there is a picture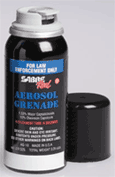 end picture
New OC Technology Ideal for Crowd Control, Cell Extractions & Area Denial
Outnumbered and faced with an unruly and aggressive crowd, how will you disperse it? While clearing a building or an area of a correction facility, how will you deny access to cleared areas? What options do you have to extract a possibly armed and combative subject or inmate hiding in a confined area? Need a quick and hot option to drop through a food slot? SABRE RED Aerosol Grenades (AG) provide a practical and cost effective tool to disperse, deny & extract.
Challenging situations require a special product to give officers the upper hand. Security Equipment Corporation's SABRE RED AG offer the solution. These very portable devices provide immediate deployment and deliver a pungent 10% OC delivering 1.33% Major Capsaicinoids. Superior to traditional OC options, SABRE RED AG deploy a fog delivery which does not require direct facial applications to incapacitate.
SABRE RED AG are available in two sizes and deliver up to 200% more OC per second! The 2 oz canister empties in just six (6) seconds while covering approximately 10,000 cubic feet within sixty (60) seconds. The larger 5 oz option empties in fourteen (14) seconds and covers 22,000 cubic feet within sixty (60) seconds. Compact, easy to carry, and nonflammable, all qualify SABRE RED AG as an ideal product for SWAT, ERT, CERT & Armed Forces.
Since 1975, Security Equipment Corporation has produced the safest and most effective line of defense spray products. Branded as SABRE, SABRE RED and FRONTIERSMAN Bear Attack Deterrent, end users are offered the finest defense sprays possible with one thought in mind: Our products must be effective. For more information about SABRE, SABRE RED, or any other Security Equipment Corporation products, contact Security Equipment Corporation at 330 Sun Valley Circle, Fenton, MO 63026 (800) 325-9568 / (636) 343-0200 Or visit www.sabrered.com.
• Escalate Your Aerosol Projectors, Not Your Level Of Force • Making Grown Men Cry Since 1975!

Request more info from SABRE-Security Equipment Corp.
Thank You!