Fla. prisons see visitation upheaval as officials cite contraband crisis
Officials said there is a growing contraband problem in Florida prisons
---
By Ben Conarck
The Florida Times-Union, Jacksonville
JACKSONVILLE, Fla. — Since July, Florida corrections officials have implemented a contraband crackdown that has weighed heavily on inmates' girlfriends, wives and mothers during visitation. Beginning in May, the department will cut those days in half, citing staff shortages and drug smuggling.
The Florida Department of Corrections has upended visitation in the last nine months, even as it says it agrees with a growing consensus around the importance of in-person contact to prevent inmates from re-entering the criminal justice system upon their release.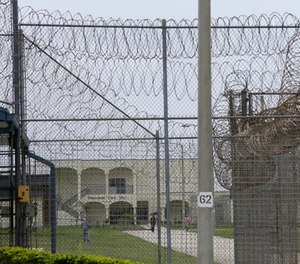 There is a growing contraband problem in Florida prisons, one that has been linked to rising violence and funding shortfalls. While the amount of contraband seized in prisons has risen steadily over the last five years, the number directly attributable to visitors has remained steady at around 2.5 percent.
"In spite of our diligent efforts, we are experiencing a vast increase in the amount of contraband being introduced into correctional facilities statewide," Deputy Secretary of Institutions Ricky D. Dixon wrote in a memo earlier this month. "These hindrances make it difficult to maintain the positive environment required and expected in our visiting parks."
The schedule change was announced months after the Times-Union began reporting on prison visitation conditions — obtaining records revealing thousands of strip searches. The corrections department recently started issuing press releases about contraband findings during visitation.
In the memo, Dixon said the reduction of visitation days would "provide for a more orderly and efficient visitor screening process, reduce the pressures related to seating and facility access within the parks, and enhance the overall visitation operation for visitors, staff and inmates alike."
Starting in May, inmates will be allowed to see their loved ones every other weekend, instead of every weekend. The schedule will be reviewed after 90 days, and four times a year following that, "to determine whether any circumstances have changed that would facilitate a change to [the old schedule]," the memo said. Holiday visitation will not be affected.
The last year saw record inmate mortality rates, as well as demonstrations, riots, protests, and heightened gang violence. The department sees contraband as an essential contributor to the unrest in the prison systems.
Department spokeswoman, Michelle Glady, has stressed that efforts to stem contraband during visitation are one part of a multifaceted approach the agency is taking. As for the schedule change, Glady said, the goal is reduce weekend visitation numbers to make the ratio of corrections officers to visitors "more appropriate." The new schedule, she said, would likely precipitate a drop in strip searches.
"I think it stands to reason that we wouldn't search as many people, because hopefully you wouldn't have as many visitors coming through," Glady said. "You'll get through that process faster."
The department is also adding video call kiosks as a supplement to weekend visitation, which will allow inmates to pay $2.95 for 15 minutes of time to communicate with their loved ones during the week with scheduling restrictions.
Glady said the video calls will not be replacing contact visits.
"Absolutely no one wants to get rid of in-person visitation," she said. "That's not even on the table."
Experts who study prisons, however, said that video visitation has become more prevalent in other states.
Amy Fettig, Deputy Director of the National Prisons Project at the American Civil Liberties Union, said New York rejected the proposal for public safety reasons.
"When we eliminate someone's ties to the community, we make it so much more difficult to come back," she said.
©2018 The Florida Times-Union (Jacksonville, Fla.)

Request product info from top Metal Detectors companies
Thank You!