PRESS RELEASE
We are pleased to announce the launch of our brand new website!
---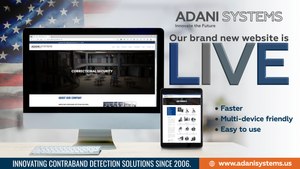 After a few weeks of hard work and dedication, we are delighted to announce our new website's launch officially.
This new website aims to provide our clients an easier way to learn about x-ray technology for security screening, solutions for corrections, government buildings, airport, schools, and events venues. The new website is creative, interactive and provides a better user experience to our current and prospective clients.
We will constantly update our content with helpful information, articles, newsletters, company announcements, and client successes in the news section.
We hope you find the new website with a fresh look and easy to access information and we wish to establish this website as a source of information for those who visit our site.
For any questions, suggestions, feedback, or comments, please get in touch with us.  sales@adanisystems.com
WORLD-LEADING X-RAY IMAGING SOLUTIONS
Founded in 2006, ADANI Systems Inc. has over 15 years of experience in security X-ray imaging and specializes in Full Body Scanners, Baggage X-ray Systems, and Cargo Screening Solutions.
Our innovative in-house engineering and design departments distinguish ADANI Systems as a globally recognized leader in security, non-destructive testing, and medical imaging. ADANI Systems, Inc. leverages world-class scientists and software developers to deliver unique solutions to global challenges. We develop and proudly manufacture our industry-leading imaging systems in the United States to meet today's security challenges with the innovation and quality to perform in tomorrow's world.

Request more info from ADANI Systems
Thank You!