How to incorporate temperature screening into your safety protocols while reducing overtime and increased exposure risk
Your temperature screening tools should help your efforts to curb the spread of infection without interrupting operations
---
Sponsored by NUCTECH
By Corrections1 BrandFocus Staff
The most common symptom of COVID-19 is a fever, with about 90% of patients suffering from it, according to the World Health Organization.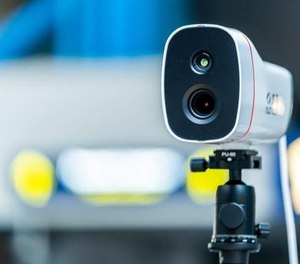 As agency office buildings, courts and jails try to adapt to new safety measures like temperature screening, many have struggled with finding the right balance between transparency and safety. Some have raised privacy concerns over how high-tech infrared temperature-checking devices are collecting individual data, and others are worried that some of these systems inaccurately record high temperatures in humans.
Time is also a key challenge faced by many U.S. public safety departments. How, then, can individuals be monitored for symptoms without disrupting schedules or personal privacy? Whether it's to screen people in courts or correctional facilities, NUCTECH's series of contactless screening solutions can do the job without hampering already overwhelmed public safety agencies.
One-way NUCTECH's temperature screening solutions, TempChecker and ThermalScan, help is by measuring the temperatures of up to 200 people a minute – which could mean no more long lines of socially distanced people waiting to be screened.
Contactless temperature checking keeps things moving
Many traditional thermometers use laser technology, which has the drawback of being unable to read temperatures from several feet away, so often these devices require surface contact. On the other hand, NUCTECH's temperature screening system, which looks like a camera on a tripod, can be set 10 feet away from the person or persons being screened. The use of artificial intelligence and Nuctech's algorithm convert skin temperatures to core temperatures, giving a more accurate temperature screening.
It captures real-life and infrared pictures but does not collect or store any identifiable individual data. This is good news for agencies that want to avoid privacy controversies, as other screening tools do collect individual data.
Integrating two imaging technologies (infrared and visible light) into one camera, the NUCTECH system displays a side-by-side visual of the screening subjects in real-time. If a person being screened does not have an elevated temperature, a green box appears on the screen to indicate that the person is in the clear. But when the system comes across a person with an elevated temperature, a red box appears, and an alarm goes off to notify officials.
"One of the things that's very different about the TempChecker and ThermalScan is that they use AI, which is helpful when the machine is looking at someone who is wearing a mask and holding a hot cup of coffee, for example," said Barry Johnson, a former Pennsylvania correctional officer who is now national sales director at NUCTECH. "Instead of focusing on taking the temperature of the cup, the machine knows to focus on the forehead to take the individual's temperature."
This AI feature helps the NUCTECH system process large numbers of individuals without stopping and with enhanced consistency, transparency, and accuracy. 
In addition, because the system is contactless, the person being screened does not come into physical contact with the system. The result is less cleaning to maintain safe operation.
Exposure and overtime risk, you want to avoid
COVID-19 has created the need to constantly monitor individual temperatures to reduce risk, but agencies without a strategy and an inefficient temperature monitoring system could end up incurring significant financial costs.
During his time as a correctional officer in Pennsylvania, Johnson saw how much "walk time" can add up among officers.
Now imagine if your role as an officer has morphed into becoming the go-to person to conduct temperature screenings. This ends up becoming a risk and a waste of your time and abilities as an officer – as well as increased exposure to potential infection.
"Imagine if you have to have a designated officer whose sole job is to check the temperature," said Johnson. "You're exposing both the person whose temperature is being taken and the person who is taking the temperature."
Added duties can build up and create costly overtime expenses for the agency, as well. Safety measures are necessary, but it is important to develop an efficient way of incorporating them into your agency's processes and procedures during the pandemic. Protect your staff and inmates by strategically deploying temperature-screening measures that provide fast and accurate results without interrupting operations.
For more information, visit NUCTECH.

Request information from Secure Technology Value Solutions (STVS)
Thank You!