Spotlight: ChemImage products help quickly, easily and objectively detect drugs concealed in inmate mail
Unlike other contraband detection methods, VeroVision Mail Screener takes the guesswork out of mail screening
---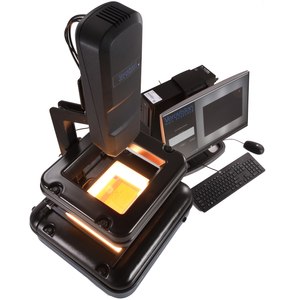 Company name: ChemImage
Headquarters: Pittsburgh, Pa.
Signature Product: VeroVision Mail Screener
Website: https://www.chemimage.com/
1. Where did your company name originate from?
The company was initially established in 1994 as ChemIcon and was the first company formed to commercialize molecular chemical imaging technology. In 2002, the company became ChemImage Corporation to focus on the new industry of Chemical Imaging that ChemIcon had helped to create.
ChemImage is the combination of the words chemical and imaging, which relates to our patented technology known as Molecular Chemical Imaging.
2. What was the inspiration behind starting your company?
ChemImage, founded in 1994 as ChemIcon, Inc. by Dr. Patrick Treado and Dr. Carey Treado, was formed to commercialize molecular chemical imaging technology. The motivation was to develop tools needed to apply the technology to medicine and materials analysis. The first applications were for predictive maintenance in the power generation industry and the evaluation of consumer products using proprietary software.
3. What is your signature product and how does it work?
VeroVision Mail Screener is an innovative sensor system that can quickly, easily and objectively detect drugs concealed in inmate mail. Unlike other contraband detection methods, VeroVision Mail Screener takes the guesswork out of mail screening. If an illicit material is detected, the Identify function can give the user a Presumptive Identification of the questionable material.
Visual and manual inspection of mail can reveal suspicious looking material or strange markings that are obvious red flags to most inspectors. VeroVision Mail Screener can detect the not-so-obvious presence of illicit material. This safe technology allows for the normal process and flow that mailrooms are currently used to. In the time it takes for visual/manual inspection, the VeroVision Mail Screener can detect and presumptively identify a number of common drugs and cutting agents that would have potentially gone undetected.
4. Why do you believe your products are essential to the corrections community?
VeroVision Mail Screener offers correctional facilities a quick and effective method to screen inmate mail for illicit drugs and cutting agents, helping to improve personnel safety and keep drugs out of the inmates' hands.
Many drugs concealed in incoming inmate mail cannot be detected by visual inspection. Illicit materials enter facilities and put officers, staff and inmates at risk. As drugs become more potent, the impact of exposure gets more dangerous and can even result in death. Inmates that have access to drugs are more likely to be aggressive or combative, putting facility personnel in danger. 
Unlike other solutions, VeroVision Mail Screener allows inmates to receive mail from their loved ones in its original form. Items such as children's drawings and greeting cards may be considered high risk and are often withheld or prohibited, but receiving these items can give the inmate a stronger connection to their support system. Studies have indicated that inmates with a strong connection to a support system are generally happier and have a reduced risk of recidivism.
5. What has been the biggest challenge your company has faced?
We tackle hard problems leveraging our core technology, Molecular Chemical Imaging. There is great deal of research and development in everything we do and have faced and overcome many challenges as we mature our technology for use in a variety of applications and markets. ChemImage is a pioneer in the commercialization of products, into diverse market segments, that allow users to see what normally wouldn't be visible.
6. What makes your company unique?
ChemImage has been leveraging our patented Molecular Chemical imaging technology not only in the corrections industry, but for law enforcement, defense and life sciences applications. We are the leader in creating commercial products leveraging this technology.
7. What do your customers like best about you and your products?
Our best customers see the value in being able to see what they normally wouldn't be able to see. They appreciate the ease of use when operating and the added security the technology provides. Whether it is screening inmate mail, screening vehicles at entry control points, or visualizing anatomic structures for diagnosis and treatment, we are helping the users of our technology to have an Awareness of Things that they wouldn't otherwise have.
8. What is the most rewarding part of serving the corrections community?
Helping to make the world healthier and safer is at the core of everything we do. It is part of our mission and vision as an organization. We have a line of business specifically focused on law enforcement, corrections and security to help bring awareness to those that help to keep us safe. ChemImage is proud to develop products that enable these professionals to be more aware of their surroundings and detect potentially harmful materials.
9. Is there any fun fact or trivia that you'd like to share with our users about you or your company?Fun fact: One of our earlier products, The Eagle, was developed to give first responders the ability to identify dangerous or illicit materials on site. It was the first instrument to combine microscopic examination, Raman spectroscopy, and fluorescence spectroscopy for rapid identification of chemical and biothreats. It is now on display at the International Spy Museum in Washington, D.C.
10. What's next for your company? Any upcoming new projects or initiatives?
We are always working on new and exciting applications for our technology. We recently launched VeroVision Vehicle Screening Service leveraging the technology of our VeroVision Threat Detector combined with our trained experts for screening vehicles at entry control points for large events. Other initiatives are focused on medical device applications of our technology, as well as the advancement of a software platform that supports data science teams in the Artificial Intelligence and Machine Learning space.