iEvac offers critical protection during facility evacuation
Emergency escape hood guards against a number of smoke, gas, chemical threats
---
By Scott M. Bruner
Corrections1 Product Editor
An intriguing new product from Elmridge Protection Products offers correctional officers and inmates a safe, effective, and fairly low cost solution for evacuations. The iEvac is a PVC hood with a filter system designed to guard against smoke and other hazardous materials in an emergency.
"We are the first one and currently the only ones certified to the American standard," Ira Gurvitch, president of Elmridge Protection Products, said.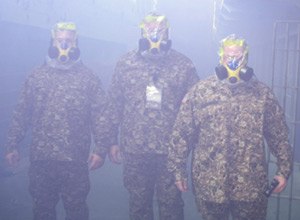 The iEvac has been tested to the stringent ANSI 110 performance and capability tests. It has been tested to remove 99.97 percent of dangerous particles, including anthrax, smallpox, and radioactive particles.
In addition to smoke, the iEvac can guard against toxic gases that include carbon monoxide, hydrogen cyanide, chlorine, ammonia, as well as CN and CS tear gases.
Perhaps its most unique feature is that in addition to featuring a charcoal system to protect from gas inhalation, it has a catalyst that converts carbon monoxide to carbon dioxide, which is then breathed out through an exhalation valve.
According to Gurvitch, one of the reasons the iEvac was designed was to provide the market with a cost-effective alternative to current evacuation methods. The iEvac hoods also do not require any maintenance, and arrives in a puncture and waterproof container.
"Currently, most correctional facilities are using SCBA. SCBA is designed to go into a situation when you know what is – it's for firefighters. The iEvac can give you a half hour to an hour of protection in an emergency…Some facilities can't even afford the maintenance of an SCBA. This accomplishes just what they need. It's not to fight fire, but to get you out," Gurvitch said.
The iEvac is able to withstand radiant heat of up to 1700 degrees. It can be donned in 30 seconds, protecting an officer or inmate from a number of threats quickly and efficiently. There are two cartridges in each mask to allow for easy breathing, and the hood has reflective strips for visibility.
The hood is tested every year to make sure it continues to meets the ANSI standards, through random sampling of the iEvac hoods and was one of the products used during May's Mock Prison Riot in W. Va.
"The reaction at the Mock Prison Riot was overwhelmingly positive," Gurvitch said.
For more information on Elmridge Protection Products and their line of protective equipment, visit http://www.elmridgeprotection.com.