Delivering prisoner compliance with the Stun-Cuff
Data tracking system now offered with less lethal device
---
By Scott M. Bruner 
Corrections1 Product Editor
Having difficulty with prisoner compliance? Myers Enterprises' Stun-Cuff Magnum is usually just what the prison warden ordered. While the device has been around since 2005, Myers has recently released a DataPort System accessory. The DataPort system records the time, date and duration whenever a Stun-Cuff is fired. The information can then be downloaded onto a PC. The DataPort is a chip that fits inside the Stun-Cuff's seven ounce case.
"With the DataPort, people can get the data they need about any firing. If a prisoner says he was shocked for 10 seconds, you can pull up the data from the port and tell exactly how long it was, if at all," Brad Myers, president of Stun-Cuff, said.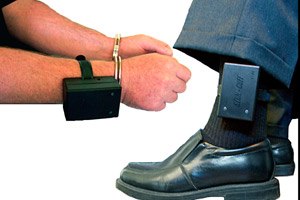 The Stun-Cuff, attached to the wrist or ankle of a prisoner and designed to deliver compliance via an electric charge, packs a localized shot of 80,000 volts that "hurts like the dickens." It's applied quickly and easily using a locking band. Unlike shackles, which may not be allowed in a courtroom, the Stun-Cuff can be virtually invisible to jurors. The Stun-Cuff can be removed with any standard handcuff key, but the PVC plastic locking band makes sure it can't be removed without one.
It initially delivers a three second burst, but the operator can hold down the fire button as long as necessary. The Stun-Cuff Mangum also has the ability to fire at one intensity and increase the pulse rate as it is continuously fired. The transmitter and the stun units have a 100-yard range.
The less lethal device is ideal for an array of police and corrections applications including transport, trials, interrogations, and hospital visits. Myers recommends that the best way to reach compliance is to demonstrate how the Stun-Cuff works to the prisoner before being attached. He said that he has yet to hear of anyone needing to fire it after the demonstration.
"I thought we had an inmate that we may actually have to activate it [the Stun-Cuff] on…we showed him how the cuff worked before we placed it on him and, guess what, he was very cooperative with us the whole time. So as of this date we still have not had to activate the cuff," Deputy Donald Bendinelli, Renville County Sheriff's Dept. Minn., said.
The Stun-Cuff comes with a one year warranty. The regular Stun-Cuff unit retails for $875. The DataPort chip is $100, and a kit to transfer and read the data from the chip is also $100.
Myers Enterprises, Inc. develops less lethal devices for law enforcement, corrections, security and self defense. For more information on the Stun-Cuff, visit www.stun-cuff.com.