Don't get bit: Arm guards protect from bites, slashes
Fabric reduces risk of injury and infections by 95 percent
---
By Ashley Garst
C1 Editor
The risk of injury is unfortunately a given part of any correction officer's job – and bites and slashes are among the most common causes. Thanks to a 
new piece of clothing, though, you can be protected from such attacks.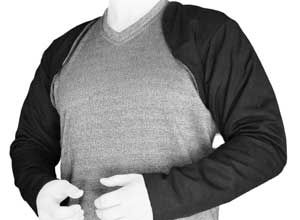 "We know the risk of being bitten is very high with [correctional facilities] and it is a well-known fact that subsequent transmission of potentially life 
threatening viruses... can lead to the death of the bitten person," said Robert Kaiser, CEO of PPSS Group, the creators of Cut & Bite Resistant Sleeves.
Made of Cut-Tex PRO, one of the world's toughest knitted fabrics, the sleeves offer the highest possible level of cut, tear and abrasion resistance.
For the Version 1 and Full-Arm Sleeves they also use an outer layer of military spec Cordura 1000D in order to make the PPE even tougher, with the additional advantage of easily wiping off human fluids like blood or saliva.
The sleeves can be worn up to 10 hours or more per day, ensuring a full shift's protection when dealing with difficult inmates.
"All bite resistant garments can be literally on within 2-5 seconds," Kaiser said,  "especially the Version 1 sleeves, which can be worn on top of any existing shirt, jumper or blouse; hence there is no time delay."
Fibers in the Cut-Tex PRO are strong to begin with, but the combination of the fibers together and the method with which they are spun creates a unique, high-performance fabric.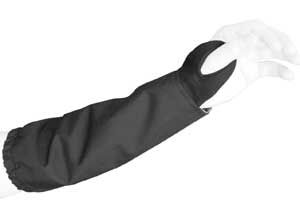 A human being can't bite through the fabric, reducing risk of injury and infections by 95 percent. The risk of bruising still remains, but PPSS is addressing this issue with an additional model that offers padded protection that reduces the severity and level of bruising.
"I have been working with prison and correctional facilities since 1992 in a number of security advisory roles," Kaiser said. "We are fully aware that anyone required to enter the cell of a seriously intoxicated, hostile or aggressive prisoner is at the risk of being punched, kicked and bitten."
According to Kaiser, one of the key responses of inmates toward a correctional officer is to bite the forearm during the control and restraining process.
The sleeves have been introduced in a number of prisons and correctional facilities around the world. If you'd like to look into getting a pair for yourself, contact PPSS here.