PRESS RELEASE
Bates® Footwear to Unveil Latest High-Performance Technology at SHOT Show: The C3® with Cross Channel Circulation
---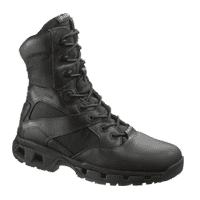 Rockford, MI – Bates® Footwear is no stranger to innovation.  With its new C3® boot launching at the 2010 Shooting, Hunting, Outdoor Trade Show and Conference (SHOT Show), the respected footwear manufacturer introduces a patented technology that will provide unmatched footwear breathability.
"Bates is continuously unveiling new technologies with the goal of being a clear innovative solutions provider," says Ron Woznick, Vice President and General Manager of Bates Footwear, "Comfort and footwear breathability remain high priorities for the law enforcement profession.  We are looking forward to seeing this new technology on the streets where it will provide noticeable comfort differences in the everyday lives of men and women in law enforcement."
The C3 joins an already impressive portfolio of military and uniform footwear.  Designed for hardwearing comfort, the C3 boots feature patented Cross Channel Circulation technology to keep feet cooler and more comfortable.  As the wearer moves about, air is forced through the patented cross channel construction, providing superior breathability.
In addition to its patented Cross Channel Circulation technology, the C3 offers an abundance of dependable details.  The C3 boasts a durable leather and 1680 Denier nylon upper, as well as, a resilient 360-degree rubber outsole that provides impressive grip and stability.  The C3 promotes additional comfort via a moisture wicking lining that manages perspiration.  The lightweight, removable insole offers strong but flexible support to ensure maximum stability.  The end result is a comfort-driven boot that delivers on multiple fronts.
C3 Features At A Glance:
• Patented Cross Channel Circulation Technology                    • Leather and 1680 Denier Nylon Upper
• Cushioned EVA Midsole                                                                    • Lightweight Removable Insole
• Moisture Wicking Lining                                                                   • Durable Rubber Outsole
• Flexible Cement Construction
Models: E03381 C3 Men's 8" Side Zip Boot; E03781 C3 Women's 8" Side Zip Boot; and E03360 C3 Men's 6" Boot.
As one of the largest uniform footwear companies in the world, Bates is forever driven to produce only the best for those who depend on the brand while on the job, whether on the streets or in combat.  "We're excited about the C3 and are eager to watch it provide unmatched breathability performance in a segment where footwear comfort is critical," says Woznick.
Held at the Sands Expo and Convention Center in Las Vegas, Nevada, the SHOT Show will run from January 19 through January 22 and is for the trade only.  (For more information on the SHOT Show, visit www.shotshow.org.)
Bates Footwear will be located in the Law Enforcement section, booth number 11860.
For more information on Bates Footwear, visit www.batesfootwear.com.
About Bates Footwear
Founded in 1885 as a dress shoe manufacturer, today Bates® Footwear is dedicated to the domestic development and manufacturing of uniform footwear for all branches of the military and civilian police forces.  In 1969 the company joined Wolverine World Wide, Inc. and is now headquartered in Rockford, Michigan.  As a leading supplier for elite military and law enforcement organizations, the Bates brand is sold in more than 60 countries on six continents.