PRESS RELEASE
Danner Introduces New Striker Side Zip Boots With Waterproof, Breathable GORE-TEX Protection
---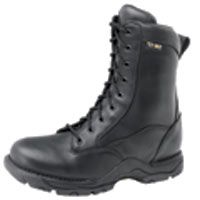 PORTLAND, OR - Danner introduces two new styles to its Striker line of uniform boots in 2004. They include two new eight-inch Striker Side Zip models - the Striker Side Zip GTX (Style No. 42926), and the Striker Side Zip Non-Metallic Toe (NMT) GTX (Style No. 42928). Built on the lightweight, yet incredibly stable TERRA FORCE platform, the Striker series now has a boot to meet the needs of law enforcement, emergency medical, corrections and security personnel working in virtually any environment.
Featuring the innovative, patented TERRA FORCE platform, the Striker Side Zip GTX 8" boots provide the support and durability of a classic Danner boot in a lightweight model. TERRA FORCE consists of four components: an insole plate, midsole, internal and external shanks and the Danner-designed, durable and slip-resistant Radical TF outsole. The upper is stitched to the midsole plate in the heel and forefoot for added stability in these key areas. The internal shank works with the insole plate to create a firm foundation while the external shank provides exceptional lateral and medial strength. The result is an incredibly lightweight yet stable base.
The Striker Side Zip GTX and Striker Side Zip NMT GTX styles are built with 2.0-2.2mm waterproof full-grain leather and feature a side zip to allow for quick on and off in emergency situations. The polishable leather is struck-through so even when scuffed, these boots stay black. Constructed with a waterproof, breathable Gore-Tex liner, both Side Zip styles will keep feet comfortable and dry throughout the shift. The Striker Side Zip NMT GTX also features the Danner ProTec non-metallic toe (NMT) for maximum toe protection. A lightweight composite cap, the ProTec NMT dissipates impact energy to protect the toe while meeting ANSI specifications. It won't conduct heat or cold, is corrosion-resistant and won't activate metal detectors.
The Striker Side Zip NMT GTX has a suggested retail price of $200 and the Striker Side Zip GTX has a suggested retail price of $190. The Striker Side Zip styles will be available in men's size 7-12, 13, 14D and 8-12, 13EE. These new boots are available today.
Danner, located in Portland, Oregon, designs, manufactures and markets a complete line of innovative, functional, performance footwear. With a commitment to craftsmanship, Danner continues to build on the company's 72-year heritage of making premium-quality hiking, hunting, occupational, uniform and rugged casual footwear for men and women. Danner is a wholly owned subsidiary of LaCrosse Footwear, Inc. For more information, please visit www.Danner.com.