PRESS RELEASE
Danner Unveils the Stinger GTX
---
Next Generation Duty Boots Featuring TERRA FORCE™ X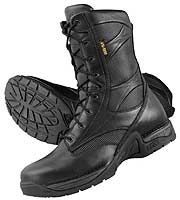 PORTLAND, OR - New for Fall 2005, Danner introduces two no-nonsense additions to its duty boot family - the Stinger GTX 6" and Stinger GTX 8". These premium-quality boots are built on the TFX platform, the next generation of Danner's patented lightweight, yet incredibly supportive TERRA FORCE technology. The Stinger series also utilizes Danner's new TPU outsole, the TAC TFX, which lasts longer and weighs less than traditional rubber outsoles. This cutting-edge construction and mean design, teamed with Danner's commitment to quality, spells trouble for the bad guys.
Built on the innovative, patented TERRA FORCE X platform, the Stinger GTX series provides the support and durability of a classic Danner boot in a lightweight, athletic model. The technology behind TERRA FORCE™ consists of five components: an insole plate, midsole, internal and external shanks and the new Danner TAC TFX outsole. The upper is stitched to the midsole plate in the heel and the forefoot for added stability in these key areas. The internal shank works with the insole plate to create a firm foundation while the external shank provides exceptional lateral and medial strength, resulting in an incredibly lightweight stable base. For optimum performance in the field, the TFX platform incorporates a rugged X-frame design and slight toe and heel wrap that boosts traction while reducing weight. Moreover, the TPU outsole improves traction, comfort and longevity.
The water-resistant, all leather upper of the Stinger GTX series contains a waterproof, breathable GORE-TEX liner, making it particularly well suited to perform in any environment. The duty boots are available in both 6" and 8" versions, strictly depending on the preference of the wearer and function of the boot.
The Stinger GTX series will be available in men's sizes 7-12, 13, 14D and 8-12, 13EE. The 6" version will have a suggested retail price of $180 while the 8" will be $185. Both will be available to consumers in June 2005.
Danner, located in Portland, Oregon, designs, manufactures and markets a complete line of innovative, functional, performance footwear. With a commitment to craftsmanship, Danner continues to build on the company's 73-year heritage of making premium-quality hiking, hunting, occupational and uniform footwear for men and women. Danner is a wholly owned subsidiary of LaCrosse Footwear, Inc.