PRESS RELEASE
Original S.W.A.T. Introduces New Waterproof Air Sole Boot
---
use if there is a picture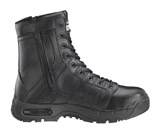 end picture
Salida, CA –   Just in time for the Fall rainy season, Original S.W.A.T. introduces its newest waterproof boot, the Air All-Leather Tactical Waterproof.  The lightweight (44 oz/pair) boot is built upon the same foundations as the Metro Traction product category, featuring air sole technology for superior comfort. 
The boot upper is made from waterproofed leather with an internal waterproof breathable membrane.  The YYK® side zipper is Velcro® tabbed and gusseted to keep out water and debris.  The footbed foundation consists of a lightweight, riveted steel shank sandwiched between 2 flexible lasting boards for superior lateral stability and torsional strength, then topped by a removable molded orthotic sock liner.  Additionally, Original S.W.A.T.'s proprietary Metro Traction outsole features a unique Arch Ladder Tread, specially designed for extra grip on rope rappels.  
Original S.W.A.T. pays attention to the details, too.  The heel has a ridged kick plate, making the boots easier to get on and off, and the toe has an abbreviated toe bumper to protect from scuffs and scrapes.  Each lacing eyelet is reinforced with a heavy-duty plastic liner, preventing laces from ripping through the leather and extending the life of the boots. 
The Air All-Leather Tactical Waterproof boot is available in black, in D-width sizes 7 – 15, and EEE-width sizes 8 – 15.  Both come in half sizes up to size 11.5.  For more information, visit www.originalswat.com, or call Original SWAT Footwear Co. at (209) 545-2500.