PRESS RELEASE
Avon Protection showcase support for Vision 2030 at World Defense Show
---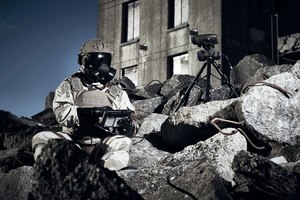 Avon Protection is proud to be attending the first World Defense Show in Riyadh, Saudi Arabia, 06-09 March.
Avon Protection has been a trusted partner in Saudi Arabia, with its products deployed in military and first responder units for many years. As a world leader in respiratory and head protection systems, Avon Protection is committed to supporting the Kingdom of Saudi Arabia's mission to achieve self sufficiency in its military industries, with the development of world class military products and highly skilled national talent.  
Commenting on their attendance at the show, Steve Elwell, Vice President, Europe, Middle East, Africa and Asia said;
"One of the commitments for Vision 2030 is to localize over 50 percent of military equipment spending by 2030. We are very supportive of this aim and already have experience of bringing local manufacturing to other countries to ensure their armed forces are equipped with the very best capability."
Building on their position at the forefront of CBRN solutions, Avon Protection will be demonstrating their respiratory and head protection portfolio which includes Avon Protection's market leading FM50 respirator, MP-PAPR and the F90 helmet.
As an innovative capability provider, Avon Protection understand the unique requirements of the modern warfighter and tactical operator. The technology on show from Avon Protection demonstrates their continued drive towards fully integrated Personal Protective Equipment (PPE). This integration between solider equipment provides militaries with the highest level of performance and protection whilst still maintaining operational agility.
John Hodges, Sales Director – Middle East, South and Central Asia, Avon Protection commented;
"We're very much looking forward to World Defense Show. As a new event in Saudi Arabia, it provides us with the opportunity to discuss localization and their requirements for integrated solutions. With customers in over 65 countries, Avon Protection has established itself as a leading global brand in respiratory and head protection technology, offering innovative PPE products and services across defense and security markets."