PRESS RELEASE
Team Wendy® unveils next generation ballistic helmet line at shot show 2023
---
Team Wendy®, a leading global provider of exceptional head protection systems, announced today the upcoming launch of their next generation ballistic helmet line. The law enforcement helmet series features three models designed for patrol, mobile field force and specialist operators.
Coming soon... The Patrol helmet features a front cover plate, Team Wendy 8-pad Zorbium® liner system and upgraded H-back retention system. The Mobile Field Force (MFF) helmet offers the front cover plate, adds on Team Wendy's new reverse dovetail accessory rails, features the EPIC Air® Fit Liner System and no thru-hole CAM FIT™ Retention System. The Specialist helmet is fully outfitted with a durable aluminum NVG shroud, new reverse dovetail rails, exterior VELCRO® loop patches, EPIC Air Fit and CAM FIT, and includes the Shock Cord Kit.
The new helmet series features lightweight high-performance material paired with our Team Wendy® liner systems for premium comfort. Multiple shell cuts are available for each of the helmet models for ultimate flexibility.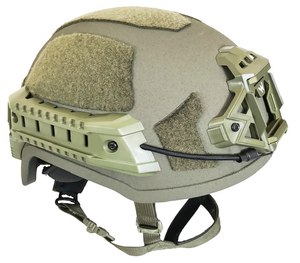 This ballistic helmet line is a result of the innovative synergies between Avon Protection, Team Wendy and Avon Protection Ceradyne coming to life," said Daron Shank, helmet product category director for Team Wendy. "By embedding the latest DOD ballistic protection technology from Ceradyne, with exceptional head protection of Team Wendy liner and retention systems, and seamless integration with Avon Protection respirators, we're able to offer our law enforcement officers scalable options for exceptional protection at an economical price."
Launching soon, all configurations will be available for purchase on TeamWendy.com and through authorized Team Wendy dealers. The three standard configurations will be available for viewing and demonstrations at booth #62307 at SHOT Show 2023 in Las Vegas.
ABOUT TEAM WENDY®
Team Wendy is an Avon Protection company dedicated to providing exceptional head protection systems designed from the inside out for those who risk their lives every day. Founded in 1997, our Cleveland-based company places a strong focus on the prevention of traumatic brain injury (TBI) in honor of the company's namesake Wendy Moore, who died tragically from a TBI following a ski accident.
As a leading supplier of helmet systems for military, law enforcement, search and rescue, and adventure sports, Team Wendy is steadfast in our dedication to the pursuit of improving head protection research, design and development, bringing more choice, better technology and reliable customer service to the industry.
Learn more at www.TeamWendy.com.