'State-of-the-art criminal justice' center to expand opportunities for Pa. COs, police
Cambria County Prison, Laurel Highlands Region Police Crisis Intervention Team and the Cambria County Coroner's Office partner with community college
---
By Joshua Byers
The Tribune-Democrat, Johnstown, Pa.
JOHNSTOWN, Pa. — Building on the establishment of the regional police academy at Pennsylvania Highlands Community College that began in 2021, school officials have partnered with local agencies to create a new Criminal Justice Training Center.
Representatives from Cambria County Prison, Laurel Highlands Region Police Crisis Intervention Team and the Cambria County Coroner's Office visited the school on Monday to sign partnerships with the college.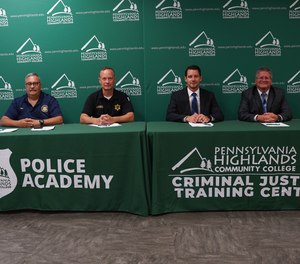 "This consortium will provide state-of-the-art criminal justice training here in central Pennsylvania," Penn Highlands President Steve Nunez said.
The idea for the joint venture started in January, and Penn Highlands Police Academy Director Dennis Miller said the school had a great foundation to start with. Miller added that the college is looking forward to expanding opportunities and offering a well-rounded training facility for criminal justice professionals.
Using the police academy as the flagship of the center — the inaugural academy class, consisting of 11 cadets, will graduate in September — the program will serve as a hub for the police academy and its use of force simulator, the Crisis Intervention Team, the coroner's office and the prison.
Offerings will range from instruction with the crisis team for first responders about situations involving behavioral crises, a training certification program and more through the Cambria County Prison for corrections, and preparing the next generation of police officers with the use of force simulator.
Joseph Hribar, Cambria County deputy coroner, views the partnerships as a way to get everyone on the same page. He said that it's vital for law enforcement officers and other professionals, such as death investigators, to work in unison.
Hribar also said that the center will improve the County Coroners' Training Symposium, held annually at Penn Highlands.
"It's an honor to join the Criminal Justice Training Center," Crisis Intervention Team Program Coordinator Daniel Marguccio said. He told the crowd that the crisis team has used Penn Highlands' facilities in the past and has always been impressed by the accommodations.
Craig Descavish, Cambria County Prison deputy warden, also spoke of the benefits of the partnership and thanked everyone who made the joint venture happen.
For more information, visit www.pennhighlands.edu/cjtc.
___
(c)2023 The Tribune-Democrat (Johnstown, Pa.)
Visit The Tribune-Democrat (Johnstown, Pa.) at www.tribune-democrat.com
Distributed by Tribune Content Agency, LLC.
McClatchy-Tribune News Service

Request product info from top Corrections Training companies
Thank You!