PRESS RELEASE
S2 Strategic Defense presents Project Blue Line
---
BARTLETT, Ill. - S2 Strategic Defense, a Chicagoland based Defensive Tactics Training Firm is now opening their Project Blue Line as a way for citizens and officers to support the blue line. The project allows citizens to donate/pledge the S2 Critical Response Kit to be gifted to an officer. The kit contains a CAT tourniquet, Modular Tourniquet holder, HyFin Chest Seal,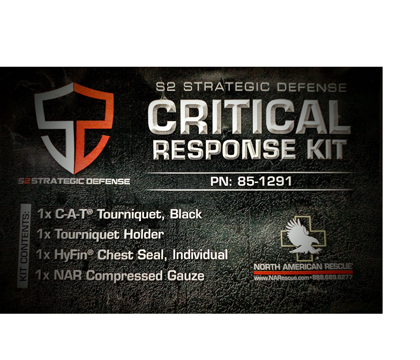 Combat Gauze, and Contents Card and comes in a vacuum sealed package produced by North American Rescue. Every 50 kits that are pledged will be sent to a law enforcement agency at no cost to the agency. There are also opportunities for business to donate in increments of 25.
Project Blue Line was inspired by the horrific acts against police Dallas, TX officers in July 2016 and the rapidly growing frequency of violence against the blue line. S2 Strategic Defense hopes that the emergency trauma care kit will provide a valuable tool for officers in the field. If your agency would like to promote the cause and be the recipient of the S2 Critical Response Kits please contact them via email at S2Strategic@gmail.com.
Kits can be donated from the Project Blue Line page located at www.S2Strategic.com.