PRESS RELEASE
WRAP Restraint Device: A User's Perspective
---
This article originally appeared in the May/June 2017 issue of American Jails, the official magazine of the American Jail Association. To access the full issue and receive a bi-monthly subscription, become an AJA member by visiting www.americanjail.org/membership.
By Sgt. Kenny Hughes, CCT
Jail Division/Security Unit; SRM Team Leader
Forsyth County Sheriff's Office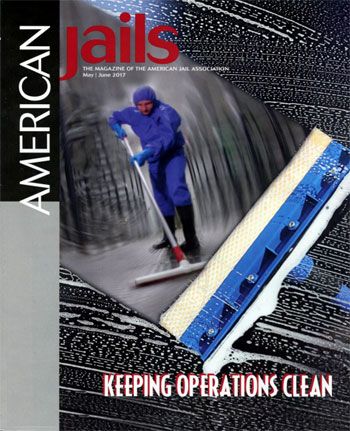 I called Safe Restraints and in a short time they shipped me a unit for us to test and evaluate. I selected a handful of deputies and supervisors, then we sat through the "Train the Trainer" course on how to use and teach the use of the WRAP. We began putting it through the paces during in-service train­ing for our tactical team before using for live incidents. Safe Restraints gave me the names of several people at other agencies to contact for their perspective on the device and how it has helped them. We also received sample policies for the device so we didn't have to reinvent the wheel if we chose to purchase it.In 2015, our agency was pre­paring to move into a new jail. We were going from a jail built as a linear-remote supervision facility to direct supervision, and increasing from 200 beds to 608 beds. We were also bringing back over 125 inmates whom we had been housing out; these were our more aggressive or otherwise non-compliant inmates. It soon became appar­ent that we needed to prepare ourselves for actually dealing with our "problem" inmates rather than just sending them to be housed in other facilities. We were also in the process of mak­ing the much needed repairs to our restraint chairs. It was dur­ing this time that our jail admin­istrator contacted me with the name and phone number of Safe Restraints, LLC, asking me to get in touch with them about a product that he had just seen. It was the WRAP restraint device.
As we continued to practice with the device, we realized how easy it was to use. The WRAP is designed with simplic­ity in mind. It is very efficient and can be applied very quickly with just a little bit of practice. In no time, our staff could go from the subject being hand­cuffed and ready to be put in the WRAP, to having it applied and the inmate ready to be moved in about 45 seconds. As the divisional training coordina­tor and team leader for the tacti­cal team, it was easy to see how this would benefit our agency immediately.
After more practice with the device, I contacted Safe Restraints for the most impor­tant information—pricing. Once I had all of the information and drafted a policy, I submit­ted a memo with my findings, including the policy draft and a request to purchase four units. We wanted one for the deten­tion area of the courthouse (for which the jail is responsible), as well as two that we could have stored here in the jail. Then, we would have one that was fully dedicated to training so we would not be putting jail staff in units that had been used on inmates. In the meantime, we were still using restraint chairs as our primary restraint device for combative or self-harming inmates.
During this time frame, we had an inmate who became very disruptive during court and was ultimately put in a restraint chair. Now another problem was posed. How do we get the inmate and the restraint chair back to the jail from the court­house? This situation opened us up to liability for anything that could occur while trying to transport the inmate in the chair. We decided to try the WRAP. Now we rarely use the restraint chairs. The WRAP is so much easier to use and provides many more benefits.
First, the WRAP is more versatile. While most of the restraint chairs on the market have wheels for mobility, they are not portable. The WRAP can be picked up and slung over a shoulder, leaving both hands free for hands-on encounters and immediately available for deployment when the sub­ject is handcuffed. It is easily maneuvered into whatever environment you are working in. Once the subject is ready for the WRAP application, the device can be brought to them rather than taking them to the device. This is particularly helpful if the subject is a larger individual or is some distance away from where you may need to leave a restraint chair due to small hallways, doors, or other obstructions. We also found that it is very easy to utilize the handles that are provided on the sides of the WRAP to lift even large subjects in order to move them—even if only short dis­tances—and then use a stretcher to move them farther if needed.
Secondly, the WRAP is much faster to apply. Again, we have to rely on whatever tactics are needed to get the subject in a prone position and handcuffed behind the back. But if they are still combative, you can't put them in a restraint chair any easier than you can handcuff them. So now after the handcuffs are on, the actual application of the WRAP is 45 to 60 seconds, even with limited practice. But even without the entire device having been applied, the fight is over as soon as the leg restraint portion is applied. The padded rods that are embedded in the harness keep the inmate from continuing to kick or struggle to get free and run. After, having been put in this device many times during training, I can honestly say that there is no pain involved. You simply know that you aren't going anywhere!
The truth is, as long as the device is applied correctly, it works well regardless of the size of the subject! We have come to rely on the WRAP during incidents with inmates who are combative or who are engaging in behavior that may cause harm to themselves. 
Initially, I wasn't convinced that this system would control larger inmates or really small ones due to its one size. But then I put my 10-year-old son in the WRAP as a test (at the time he weighed about 75-80 pounds and stood at 5-feet tall). On the flip side, we put it on a male who weighed at least 350 pounds and was over 6-feet tall: it fit and kept him restrained. The truth is, as long as the device is applied correctly, it works well regardless of the size of the subject! We have come to rely on the WRAP during incidents with inmates who are combative or who are engaging in behavior that may cause harm to themselves. It has also become a standard tool for cell extractions. It can even be modified, once initial control is gained, to allow the inmate to walk around for blood flow purposes, to go to the bathroom, or for transports.
We are now trying to implement the use of the device for the rest of our agency. We believe there is a potential benefit for other divisions, such as Uniform Patrol who also deals with combative arrestees. Rather than hobble straps or incurring damage to the windows, cages or doors of their patrol car, the subject could be put in the WRAP and then placed in the backseat with the seatbelt buckled for a safe and secure transport to the jail. And because of how effective the WRAP is at controlling the subject, they are usually much more compliant and ready to get through the process upon arriving at the jail.
Our Transport Unit can benefit because the WRAP can be used for long distance transports, particularly for inmates with a disciplinary history. With the hobble strap removed and the lower portion of the leg harness loosened, the subject can walk themselves to and from vehicles but easily be taken back down to a prone position with the unit reapplied completely, thereby quickly and safely regaining complete control again.
Cleaning is simple—all that is needed is soap and water. You can brush with a soft bristled brush and then let it air dry completely. If needed, a small amount of bleach or Simple Green Pro5 can be used without causing damage to the device. Avoid cleaning the WRAP with harsh soaps or chemicals. Also, there is a professional cleaning service available through the Safe Restraints website and a third-party provider. If your unit is heavily soiled, getting it professionally cleaned may be a better solution. However, for general cleaning, you can do that on-site yourself , which is sufficient in most cases. The wear and tear on your device is minimum and I have spoken to agencies that have had WRAP devices for more than 10 years with no issues. This obviously effects your budget down the road when you don't need to worry about buying replacement parts or replacing your entire unit(s).
If you are looking for an alternative to restraint chairs or just looking to have another form of restraint device as an additional tool, I strongly suggest the WRAP by Safe Restraints. We have been using ours for two years now. From high intensity training, to putting it through the paces to see i f we even wanted to purchase the WRAP, to real world use within our facility, we are thrilled with the ease, effectiveness, versatility, and safety of the device.
About the American Jail Association
The American Jail Association (AJA) is a national, nonprofit organization that supports the professionals who operate our Nation's jails. It is the only national association that focuses exclusively on issues specific to the operations of local correctional facilities.