Ark. prisoner transport escapee, Justin Welch, caught
---
By Dan O'Donnell
AM620 WTMJ Newsradio
SALLISAW, Okla. — The Sallisaw, Oklahoma Police Department confirmed Thursday that officers re-captured fugitive murder suspect Justin Patrick Welch a day after he escaped from custody while being extradited to Wisconsin.
"The only information that I've received so far is that Justin was able to commandeer a semi truck," said Oconomowoc Police Chief David Beghun. "That vehicle was stopped and he was taken into custody at that point. There were no gunshots exchanged."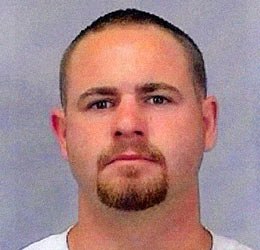 Welch was arrested in California in connection with the stabbing death of Kim Smith in Oconomowoc. Authorities believe Smith's ex-boyfriend hired Welch to kill her over a child custody dispute.
Read the full capture story here.
***This is a breaking news update. The earlier story is below*** 
Corrections1 Staff
A nationwide manhunt is under way for Justin Welch, a 26-year-old man accussed of stabbing a woman to death in Wisconsin, who escaped in a prisoner transport van after stabbing one private transport guard, stealing his gun and then waking another sleeping guard at gun point.
In Van Buren, Arkansas, at 2:30am on Wednesday, Welch asked to use a bathroom at an I-40 rest area. Guard Michael Nowland, 29, of Columbus, Miss., removed his handcuffs but left his legs in shackles (Editor's note: see related video for a safer and more efficient method for completing bathroom breaks during prisoner transport).
Inside the restroom, police say Welch used a screwdrive or other tool to stab Nowland. He then stole the guard's gun and handcuffed him inside the stall. He robbed a truck driver who was also in the restroom, ordering him not to move.
Welch then approached the van, awaking the second, sleeping guard, Marian Pulliam, 32, of West Point, Miss., at gun point. The two scuffled, but Pulliam was unarmed. Pulliam fled as Welch fired several shots after him.
Finally, Welch handcuffed the truck driver to the other four prisoners being transported and fled in the van. None of the other four prisoners escaped.
The North Atlantic Extradition Service van never should have stopped at a rest area, Waukesha County District Attorney Brad Schimel told WBAY news in Wisconsin.
"When we contracted with them, we were provided with their policies which prohibit stopping at public restroom facilities. The protocol is to stop at local jail facilities for restroom breaks," Schimel said.
North Atlantic Extradition, based in Columbus, Miss., is a private prisoner transport company. Its officials did not respond to requests for comment.
There has been no sign of Welch or the white Dodge van since the escape, said Police Lt. Brent Grill.
Welch is accused of entering the Oconomowoc, Wisconsin, home of Kimberly Smith on Oct. 1, binding her hands behind her back and stabbing her in an alleged murder-for-hire plot.
Police found a knife and a pair of medical-style gloves used in the slaying in a storm drain near Smith's home. DNA found on the evidence was connected to Welch, who had a criminal record in California, according to court records.
According to the criminal complaint issued in Wisconsin, Darren Wold, 41, of Lubbock,. Texas, and Jack E. Johnson, 65, who last lived in Mexico, conspired to hire Welch, 26, to kill Smith, 37. Wold was involved in a custody dispute with Smith over their 4-year-old son.
Welch is charged with first-degree intentional homicide. Wold and Johnson are charged with first-degree intentional homicide as a party to a crime.
Welch was being transported from the San Diego (Calif.) County Jail to Waukesha at the time of his escape. Welch had been held in San Diego after his Nov. 18 arrest in Mexico as he attempted to cross the border into the United States.
At one point, authorities thought Welch was near Little Rock, about 130 miles southeast of Van Buren, the Wisconsin Journal Sentinal is reporting.
That was based on a cell phone tower picking up a signal from a cell phone Welch is believed to have with him, Little Rock police said.
But Little Rock Police Lt. Terry Hastings said authorities do not believe Welch remained in the Little Rock area. He has no ties to the area, Hastings said.
I-40 goes through North Little Rock. It's possible that Welch is trying to flee to Mexico, authorities speculated. The white Dodge van has Mississippi license plates and "North Atlantic Extradition" on its side.
"Welch is a very dangerous individual. We knew that. We warned the extradition authorities of that. Unfortunately, our concerns were borne out," Schimel said.
Police say they are concerned Welch might disguise himself in one of several guard uniforms that were in the van.
"(Welch) is a wild animal... a wild animal there," Pulliam said. "I just hope they catch this guy."

Request product info from top Prisoner Transport companies
Thank You!