Vegas police: Mistakes made before hospital ER shooting
Police say mistakes were made in leaving a suicidal man alone in the ER, where he grabbed a CO's ECD from an unattended bag before the OIS
---
By Ken Ritter 
Associated Press
LAS VEGAS — Mistakes were made in leaving a suicidal man alone in a hospital emergency room, where he wielded a stun gun pilfered from a jail guard's unattended equipment bag before a patrol officer shot him dead, a police official said Thursday.
One policy was changed immediately, Assistant Clark County Sheriff Todd Fasulo told reporters, and the arresting officer, Thomas Rybacki, could face departmental discipline after internal affairs reviews of the killing early Monday of Cody Leighland O'Bryan, 31, at University Medical Center.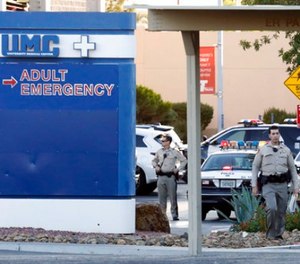 "There will never be another duty bag placed in a room with a prisoner at the hospital," Fasulo said.
Policy already prohibits leaving detainees alone, the police administrator added.
The bag, containing shackles, stun gun and a radio, had been left by one jail guard in a treatment room with O'Bryan for use by another corrections officer who had been summoned to the hospital to take custody of O'Bryan from Rybacki.
Fasulo aired a soundless video clip from Rybacki's body camera showing O'Bryan, wearing a hospital gown and restrained with an ankle shackle connected to a hospital gurney, aiming the boxy yellow-tipped stun gun.
Rybacki steps out of the room for a moment and then steps back inside and shoots once at O'Bryan. O'Bryan died of a gunshot to the head, the Clark County coroner said.
Fasulo said Rybacki warned O'Bryan to drop the weapon, and O'Bryan pulled the trigger several times but the stun gun didn't deploy because a power switch was off at the time. The police administrator corrected earlier reports and said O'Bryan didn't point the weapon at a nurse who was also in the room.
The shooting was the first ever involving Las Vegas police at a hospital, Fasulo said.
O'Bryan had been arrested on a felony warrant after calling 911 late Sunday, threatening suicide and saying he was armed with a handgun and nine bullets, Fasulo said. He was not armed when officers found him unconscious near a bus stop at a crossroads several blocks west of the Las Vegas Strip.
O'Bryan had a history of threatening suicide, with more than 20 police calls for crisis intervention in Las Vegas and Henderson, and 15 referrals to 72-hour mental health evaluations, Fasulo said.
O'Bryan had walked away recently from an inpatient treatment program to which he had been sentenced after pleading guilty in May to misdemeanor attempted battery causing substantial injury, court records show.
A judge in July had suspended a one-year jail sentence and ordered O'Bryan to undergo a mental health evaluation and complete a substance abuse treatment program.
His court-appointed lawyer, Will Moine, recalled O'Bryan as a polite man who worked a variety of jobs after moving to southern Nevada from the Reno area.
Moine declined to speak about the criminal case. He said he was saddened by O'Bryan's death.
O'Bryan was facing a Tuesday morning court hearing when he died, according to court records.

Request product info from top Prisoner Transport companies
Thank You!