Mac's Lift Gate, Braun Northwest create safer way to transport inmates
The Mac's Prisoner Transport Lift allows officers to lift high risk offenders strapped into a restraint chair into the vehicle
---
By C1 Staff
A partnership between Mac's Lift Gate and Braun Northwest has created a new prison transport vehicle to keep officers safer.
The Mac's Prisoner Transport Lift allows officers to lift high risk offenders strapped into a restraint chair into the vehicle, keeping them at a distance from accident or harm.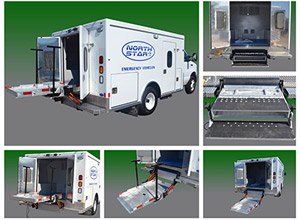 Shackled prisoners will also find the folding steps easier to step into the vehicle.
The lift can handle 750 pounds maximum, and the lifting height varies depending on the vehicle it's installed on. Platform length is 56" and width is 30". There is a constant pressure control up/down switch with a key lock.
For more information, go to the Mac's Lift Gate website.