Md. jail gets new van to save time and money
12-seat van is split into three passenger compartments, allowing for many uses
---
By Paige Jones
The Frederick News-Post
FREDERICK COUNTY, Md. — The Frederick County Adult Detention Center's recent purchase of a refurbished van saves correctional officers' time and the county jail's resources.
"It gives us more flexibility," said Capt. Steve Snow, director of security at the detention center. "We have more room to transport different types of inmates."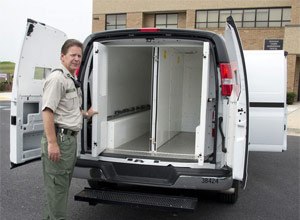 The 12-seat van is split into three passenger compartments, allowing officers to drive a variety of inmates across the state for medical appointments, court appearances and other reasons. Inmates are typically separated by gender and age, with juveniles isolated from the general population, Snow said.
"For example, if we had six males, four females and two additional males who had (a special) class designation, we can transport all (of) them in the same vehicle and they would have no contact with each other," Snow said.
In addition to the specialized compartments, the van is equipped with video surveillance and an intercom system so officers can observe inmates while seated at the front of the vehicle. For up to six inmates, only one officer mans the vehicle, but for seven to 12 inmates, two officers are present.
The Frederick County Adult Detention Center bought the van several months ago for $50,000 to replace an older prisoner transport van, which had only two compartments and had clocked over 100,000 miles, Snow said.
The county jail's transportation unit includes several officers and one supervisor, who use a handful of cruisers and two vans to transport inmates, including the recently purchased van.
"It's not conducive," Snow said of the other van, which seats 14 people. "It only has one compartment."
Although the new van is typically used for driving inmates to local courts, deputies may spend the entire day driving inmates to other facilities around the state.
"On any given day, I can have officers in Wicomico County and Allegany County, and anywhere in between," Snow said.
County deputies traveled more than 50,000 miles in 2013 transporting inmates across the state, according to the 2013 annual report.
The van is typically used as needed, depending on the number of inmate transports and the destination.
"If there's a single transport, they'll be in a cruiser," Snow said. "That's not to say we have not taken that van on road trips."
Snow described the van as a "comfortable, quiet ride," noting it makes long drives more enjoyable for officers, and protective equipment makes it easier for them to enter and exit.
"In my view, it's more safe for the officers," Snow said. "We do have a video monitoring system, so there's no surprises when they open the door up."