5 ways to reduce recidivism
Preparing inmates to stay out of prison after release is good for them, their family and friends, and society in general
---
By James Careless
According to the U.S. Department of Health and Human Services, the U.S. releases over 7 million people from jail and more than 600,000 people from prison each year. However, recidivism is common. Within 3 years of their release, 2 out of 3 people are rearrested and more than 50% are incarcerated again.
There are many reasons why released inmates re-offend, such as problems with family, housing, and health, says www.healthypeople.gov: "Formerly incarcerated individuals often have difficulty securing employment and housing because of their criminal history," the site notes. "Additionally, those with certain convictions may lose state and federal benefits, including access to education assistance, public housing benefits, food stamps, and their driver's licenses."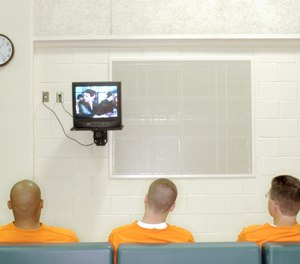 Recidivism is thus a financial and human burden on society, including corrections facilities (and their staff) that must deal with repeat offenders. Here are five ways that these facilities can reduce recidivism.
Technology can make a difference
The social isolation experienced by inmates who are cut off from family and friends can weaken their bonds to society, causing these inmates to become more aligned with criminally minded elements in prison. These relationships can negatively influence their life choices after release, including motivating many to re-offend.
Supporting strong social relationships during incarceration is part and parcel of Tyler Technologies' Enterprise Corrections Software, specifically its cloud-based Resident Resources platform that assists inmates and correctional facilities alike. Beyond securely managing "trust accounts" that hold money for inmates to buy commissary goods – accounts that are often "topped up" by family and friends – Resident Resources supports electronic messages directly to inmates, enhancing their social ties to those they care about while reducing physical mail and its ability to carry contraband by up to 85%. For the sake of prison security, this system also pre-screens messages for specific keywords selected by the facility before delivery.
Resident Resources also provides on-site and off-site video visitations to inmates, plus access to a free up-to-date legal library and an electronic Grievance and Request System for filing such messages to corrections officials for review. All told, this technological solution enhances an inmate's desire and motivation not to re-offend after release, which is key to reducing recidivism.
Education provides motivation before release, options afterward
Providing inmates with educational options allows them to develop employment skills and connections that can result in jobs and everything that goes with them after leaving prison. When released inmates can make their way in the world and build the life they didn't have before their original offense, they have good reasons not to re-offend.
Conversely, those inmates who are sent back into the world without the skills to succeed are natural candidates to commit crime in order to survive. What else can they do?
It is even possible – with the right cybersecurity restrictions and constant monitoring – to allow trustworthy inmates to access online education through appropriately configured tablet computers. When justifiable based on the inmate's behavior and the facility's ability to properly police access to the outside world, these tablets can also be used to view approved entertainment content and communication with family on the outside.
Supporting job seekers
Because released inmates with good jobs are less likely to re-offend and return to prison, many corrections authorities are taking proactive steps to help them find employment after their sentences are up. For example, California, Virginia and Connecticut are launching collaborative projects to give those participating in reentry programs tools to begin their job search journey pre-release.
Provide help to drug users
According to the National Institute on Drug Abuse, "Individuals who use illicit drugs are more likely to commit crimes, and it is common for many offenses, including violent crimes, to be committed by individuals who had used drugs or alcohol prior to committing the crime, or who were using at the time of the offense."
This being the case, providing counseling and other addiction treatment services to inmates with substance abuse problems is a logical way to reduce recidivism. This is why many jurisdictions are actively providing such support.
Separate short-stay inmates
According to the Florida Department of Corrections (FDC), inmates with less than a year left to serve on their sentence are a particularly vulnerable population who are susceptible to coercion and assault by other inmates before their release. "More than half of these inmates will return to prison after reoffending, many for much longer sentences," says this FDC-authored article.
For this reason, the FDC intends to start separating these "short-stay" inmates from the general population. "Plans are to house inmates with less than a year to serve at consolidated locations for their entire sentence, relatively close to home and with inmate 'mentors' who are typically serving longer sentences," says the FDC article. "There, they will have the opportunity to participate in education and the mentorship program specifically focused on this group. The goal is to best prepare them for restoration to their communities, hopefully never to return."
Recidivism reduction is doable
The five strategies outlined above are all aimed at the common goal of reducing recidivism, and the good this reduction will do for inmates, their families and friends, corrections staff (because inmates working to change their ways pose less danger to staff), and the community at large.
This is why reducing recidivism is a worthy goal for all correctional facilities big and small. Helping inmates to serve their time constructively and then to rejoin society successfully is, in fact, the most positive outcome that any corrections official can hope for.
---
About the author
James Careless is a freelance writer with extensive experience covering law enforcement topics.

Request information from Tyler Technologies
Thank You!