Ex-L.A. County Sheriff Lee Baca returns to federal court with 'no great options'
Baca's choices are letting the judge impose a term of up to five years in federal prison or withdrawing his guilty plea and going to trial
---
By Brian Melley
Associated Press
LOS ANGELES— Former Sheriff Lee Baca, who pleaded guilty to trying to thwart an FBI investigation into abuses at the jails he ran, faces a difficult choice that will influence how he spends the healthiest days of his retirement.
Baca returns to federal court Monday with uncertainty hanging over his future and grimmer prospects than he faced two weeks ago when a judge rejected an agreement with prosecutors, saying a six-month sentence wasn't tough enough even though Baca, 74, is in the early stages of Alzheimer's.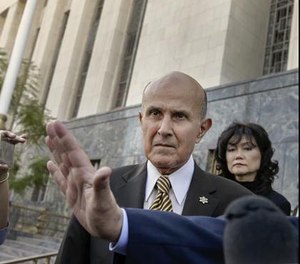 After talks broke down with federal prosecutors to reach a new deal, his choices are down to letting the judge impose a term of up to five years in federal prison or withdrawing his guilty plea and taking his chances at trial.
"There are no great options here," said Laurie Levenson, a professor at Loyola Law School and a former federal prosecutor.
The prospect that Baca will serve a longer sentence or go through a public trial is another dramatic twist in a corruption scandal that blossomed after his deputies learned an inmate was an FBI informant.
Baca, who cut the figure of a fit, trim military officer in his crisp khaki uniform, was known for his unconventional approach to running the nation's largest sheriff's department. He jetted around the world to promote a softer style of law enforcement, advocating for jailhouse education and a better understanding of different cultures.
But in his jails, a band of rogue deputies was beating inmates, and supervisors were helping cover up the violence.
After discovery of the FBI mole who was trying to gather evidence of civil rights abuses, Baca and other higher-ups tried to derail the investigation, having underlings shuffle the inmate to different jails under different names and trying to intimidate an FBI agent.
Baca long denied any role in the scandal and claimed he was out of touch with the goings-on in the jails.
He pleaded guilty in February to lying to federal authorities about efforts to stifle the investigation. In the plea, he acknowledged ordering deputies to "do everything but put handcuffs on" a female agent.
More than 20 members of the department have been convicted on charges ranging from assault to obstruction of justice, including his former second-in-command, who was sentenced to five years in federal prison.
Judge Percy Anderson rejected the six-month term prosecutors sought for Baca, saying it failed to address Baca's "gross abuse of the public's trust."
"It's one thing to lie," Anderson said. "It's another thing entirely ... when the chief law enforcement officer of the county of Los Angeles is involved in a wide-ranging conspiracy to cover up abuse and corruption."
Rejection of the plea deal created an awkward situation because federal court rules bar the judge from participating in plea discussions, Levenson said. That left the defense and prosecution in an "unusual posture" to blindly renegotiate a deal the judge might again reject.
Talks collapsed Friday and no new agreement was reached, defense attorney Michael Zweiback told reporters. He wouldn't say what Baca would do Monday and prosecutors refused to comment.
One factor that might come into play in the decision making is the state of Baca's mind.
Doctors have said he's in the early stages of Alzheimer's and able to function, but will probably experience severe cognitive impairment in five to 10 years.
"He's going to be locked up during the healthiest period of his life ... and certainly the most aware period that he's got left," said attorney J. Vincent Aprile II, who has written about defending elderly clients.
Withdrawing the plea and forcing prosecutors to get a grand jury indictment and go to trial would buy Baca more time as lawyers prepare for trial.
If his condition declined during that delay, he could be deemed incompetent to stand trial or appear as a sympathetic figure to a jury and be acquitted.
Discussing the prospect with Baca that any delay would allow him to remain free before his mind diminishes, however, would be a tough task, said defense lawyer Steve Cron, who is not involved in the case.
"I'm not saying it's not going to happen, but that's not a conversation I'd ever want to have with a client," Cron said. "That's a pretty grim choice."
Copyright 2016 The Associated Press. All rights reserved.