Feds: Drones smuggling contraband into Calif. prisons 'a large problem'
In the persistent ploys to get contraband into prisons, the skies are playing a growing role
---
By Matthew Ormseth
Los Angeles Times
LOS ANGELES — Walls and rules have never stopped prisoners from getting what they need. Drugs, phones and other contraband have been smuggled in by guards and visitors, flung over fences and even stashed inside hollowed-out pastries in care packages.
Now, two men are accused of using an increasingly common technology to bypass prison walls: drones.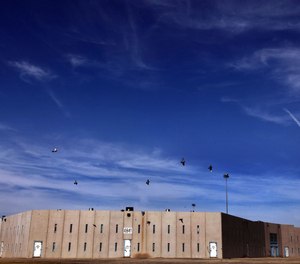 Federal prosecutors in Fresno have charged Jose Enrique Oropeza and David Ramirez Jr. with using drones to drop loads of methamphetamine, heroin, cocaine, tobacco and cellphones into the yards of seven prisons across California.
Oropeza was arrested March 29; Ramirez was arrested on April 4.
Along with drug trafficking offenses, the men face airspace violations of operating unregistered aircraft and flying without a certificate, a redacted indictment shows. Several others whose names are obscured have been charged in the case but have not been arrested.
Ramirez and Oropeza have pleaded not guilty. Ramirez's attorney, Serita Rios, said she had just been appointed to represent him and could not comment. Oropeza's attorney didn't return a request for comment.
In the persistent ploys to get contraband into prisons, the skies are playing a growing role.
"There's a large problem right now with drone activity," Sgt. Craig Parkhill, a gang investigator at Centinela State Prison, testified at a recent trial in Los Angeles.
The issue isn't confined to California. Two men have been charged in separate cases in Texas with dropping methamphetamine, tobacco, vape pens, phones and MP3 players into federal prisons, prompting the U.S. attorney in Dallas, Chad Meacham, to say, "Contraband drone deliveries are quickly becoming the bane of prison officials' existence."
An inmate sends a phone's GPS location to the drone pilot, who uses the phone as a homing device, Parkhill said. The payload is often disguised as a rock or piece of trash in case a guard spots it in the prison before it can be retrieved.
A sheriff's official testified at a recent trial that deputies shot down a drone that was flying over a Los Angeles County jail complex in Castaic.
In the case of Ramirez and Oropeza, the two piloted the drones under cover of darkness, coordinating drops with inmates who used contraband phones, according to the indictment.
California's prisons are flooded with cellphones, even though it is illegal for inmates to have them. Last year, authorities confiscated 6,766 phones, a significant decrease from the 10,494 seized three years earlier.
A resident of Dixon, about 20 miles southwest of Sacramento, Ramirez is accused of using 10 drones to bring heroin, phones and SIM cards into High Desert State Prison in Lassen County and Salinas Valley State Prison in Monterey County. He would drop the contraband onto prison rooftops, "stuffed inside of a pigeon or hidden in a mop head," the indictment says.
The ring also flew contraband into the North Kern, Corcoran, Pleasant Valley, New Folsom and Centinela state prisons, prosecutors charged.
Drones are just one way of obtaining contraband. It remains easier to smuggle phones and drugs through corrupt staff members or visitors, said an imprisoned associate of the Mexican Mafia who requested anonymity for fear of retaliation.
A guard who was assigned to San Quentin's death row was sentenced in February to 20 months in prison after admitting he smuggled at least 25 cellphones for a condemned inmate who sold them to other prisoners.
Inmates began using drones around 2016, when the devices dropped in price and were being aggressively marketed, the source said. Pilots would either drop the loads in prison yards before dawn or release them in areas outside the walls where low-security inmates work as groundskeepers. One payload, which might include up to 20 phones and half a pound of drugs, could go for $30,000, the source said.
The source said a young inmate from the Westside Locos gang in Simi Valley was a pioneer in using drones for smuggling. He set up other prisoners with a friend who was paying for college by piloting loads of drugs and phones into prisons across California, the source said.
The deliveries so endeared the young inmate to members of the Mexican Mafia that before he was released from prison and deported to Mexico, he was made a member himself, the source said.
———
©2023 Los Angeles Times.
Visit latimes.com.
Distributed by Tribune Content Agency, LLC.
McClatchy-Tribune News Service